Winter Squash Carbonara with Bacon and Sage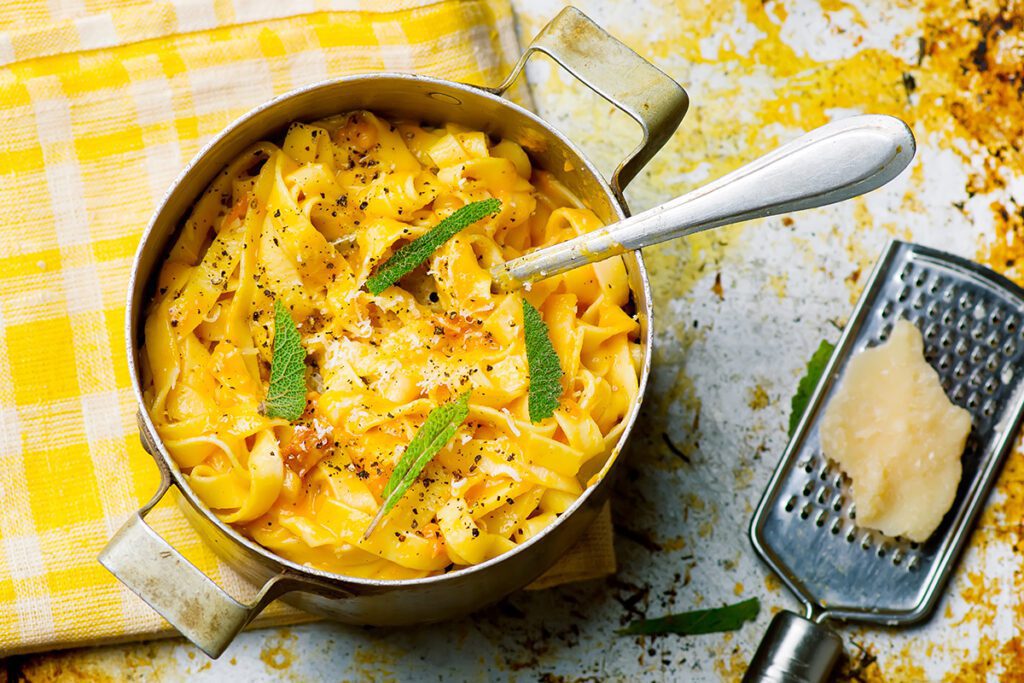 Winter Squash Carbonara can either be the perfect meal for the family or the perfect leftovers to keep you going throughout the week! This pasta is quick to make and perfect for the season.
Yields: 4 servings
Prep Time: 10 minutes
Cook Time: 35 minutes
Ingredients:
12 ounces butternut squash, peeled and cubed into 1″ cubes (about 4 cups)
2 garlic cloves, smashed and peeled
1/2 tsp dried sage
8 ounces dried whole wheat linguini
1 1/2 cups reserved cooking
6 slices center cut bacon, sliced into thin strips
1 large egg
1/3 cup freshly grate parmesan cheese
1 tsp kosher salt, divided
t tsp ground black pepper, divided
1/4 tsp red pepper flakes
Fresh sage, for garnish (optional)
Directions:
Roast the Squash
Preheat the oven to 400F. Coat a large baking sheet with cooking spray and add the squash to the baking sheet. Lightly coat the sheet with more cooking spray and sprinkle with 1/2 tsp salt, 1/2 tsp pepper, and 1/2 tsp dried sage. Toss to coat the squash evenly with the spices.
Add peeled garlic gloves to the seasoned squash and roast for 10-20 minutes, or until the squash is soft and starting to brown. Remove from the oven and set aside to cool.
Prepare the Pasta
While the squash is roasting, bring a stock pot of water to a boil and add a couple pinches of salt to the water. Once the water is at a boil, add in the pasta and stir.
Cook the pasta according to the directions on the package but undercook by about a minute.
Reserve 1 1/2 cups of the pasta water before you drain it.
Drain pasta and set aside.
Make the Sauce
While the pasta boils, place bacon pieces evenly in a large skillet. Turn on to medium-high and cook until bacon is browned and most fat has rendered.
Remove bacon to drain on a paper towel. Remove skillet from heat and dreain bacon fat, keeping 1 tablespoon of fat in the skillet.
In a food processor or high-speed blender, add the butternut squash, garlic, 1/2 tsp salt, 1/2 tsp pepper, 1/4 tsp red pepper flakes, and 1 cup of pasta water.
Blend until sauce is smooth and creamy, scraping down sides and reblending until squash is pretty much pureed. Add in egg and pulse a few times until egg is integrated into the sauce.
Return skillet with bacon grease to medium-low heat. Add in cooked pasta and about 1 tablespoon of remaining pasta water. Toss with tongs until pasta is heated through.
Turn heat to lowest setting. Add in butternut squash sauce and toss with pasta for about a minute, until the pasta starts to soak up some of the sauce.
Remove skillet from heat. Stir in parmesan and most of the bacon. Add in more pasta water if the sauce is too thick.
Garnish with the remaining bacon at freshly cracked pepper. Add fresh sage, if desired.