Watermelon Spicy "Tuna" Poke Bowls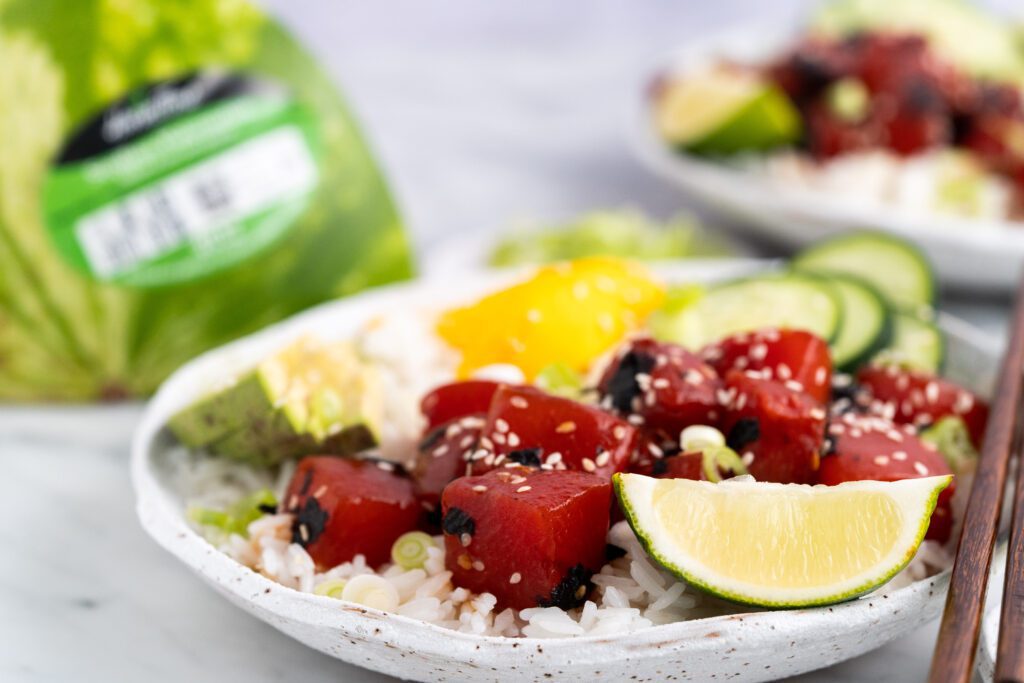 Recipe Info:
Yields 2 servings
Prep Time: 20 minutes
Cook Time: 10 minutes
Other Time (For the Watermelon to Cool and Marinade): 1 hour, 30 minutes
Watermelon Spicy Tuna Ingredients:
3 cups cubed HarvesTime Seedless Watermelon
2 1/2 tablespoons soy sauce, or tamari sauce or coconut aminos
1 1/2 tablespoons rice vinegar
1 tablespoon sriracha, or more to taste
1/2 tablespoon toasted sesame oil
1 sheet nori (dried seaweed), finely chopped
1 clove garlic, crushed
1/2 tablespoon sesame seeds
Poke Bowl Ingredients:
2 cups steamed jasmine rice, or brown rice or quinoa
1 cup shelled edamame, thawed and drained if frozen
1 cup sliced cucumber
1 mango, peeled and sliced
1 avocado, peeled and sliced
1 scallion, thinly sliced
1/2 teaspoon sesame seeds
2 lime wedges
For the Watermelon Spicy "Tuna":
Preheat a large nonstick skillet over medium heat. Add the watermelon cubes in a single layer, and cook 10 minutes, flipping the cubes over every couple minutes. There should be no liquid in the pan after 10 minutes. Remove from the heat and let the watermelon cool to room temperature, about 30 minutes.
Whisk together the soy sauce, rice vinegar, sriracha, sesame oil, nori, garlic, and sesame seeds. Add the watermelon and gently toss to coat.
Cover the bowl and chill in the fridge for at least 1 hour or up to 4 hours.
To Serve:
Divide the rice between 2 individual shallow bowls. Top each with half of the watermelon spicy "tuna" (discarding the marinating liquid), edamame, cucumber, mango, avocado, and scallion. Sprinkle the sesame seeds on top, and serve each bowl with a lime wedge to squeeze on top.