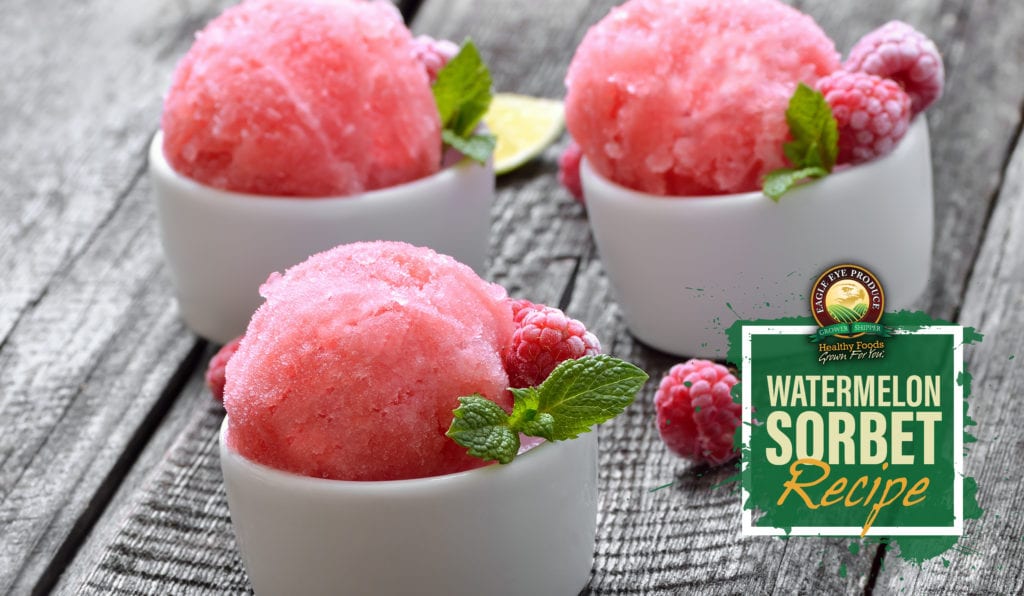 A classic summer recipe for the whole family! A fresh, and juicy watermelon with a little effort becomes a creamy, sweet, sorbet to share.
Ingredients
Makes about 1 quart.
2 1/4 pounds of chopped watermelon
1 cup of sugar
5 teaspoons of lemon juice
Salt
Directions
Combine chopped watermelon and sugar in a food processor bowl. Process for about 1 minute or until the mixture is smooth. Time varies on processor. Pour purée through a strainer to remove any seeds. After you have strained the purée you should have about 1 quart of strained purée. Stir in lemon juice, and salt to taste. Usually if your watermelon is naturally more sweet you might want to add less lemon than if the watermelon is not as sweet. You don't want to overpower the natural watermelon taste. After adding salt and/or lemon juice transfer to a freezer to chill until the purée is very cold. This usually takes 2-3 hours.
After you have chilled your purée churn in an ice cream maker according to manufacturer's instructions. Transfer your churned ice cream to an airtight container again, and chill in a freezer for 2-3 hours or until firm. Time varies based by refrigerator.
Chef's Tip: Add mint and berries for some extra flavor!
Did you know Eagle Eye Produce grows premium watermelon in the USA and Mexico? Find out more here!