Watermelon Salad with Mint Lime Vinaigrette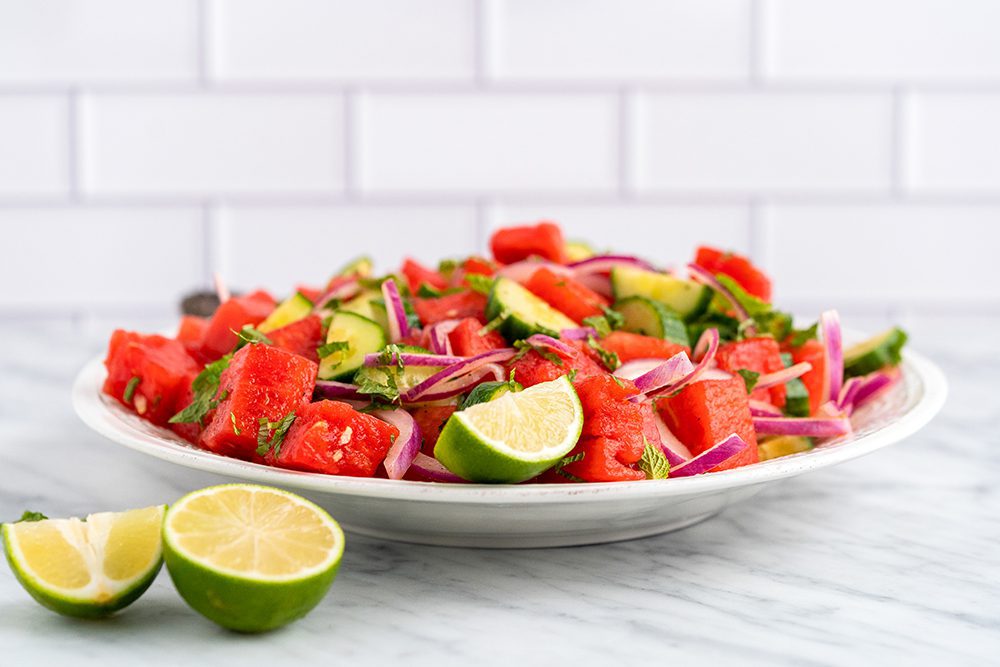 This Watermelon Salad with Mint Lime Vinaigrette is the best refresher on a hot summer day! It's quick, easy, light, and hydrating, and the zest of the lime and refreshing mint pair perfectly with our sweet HarvesTime seedless watermelon.
Yields 8 cups
Prep Time: 15 minutes
Cook Time: N/A
Ingredients
1 1/2 tbsp fresh lime juice
1/2 tbsp fresh lime zest
1/2 tbsp apple cider vinegar
2 tbsp extra virgin olive oil
1/2 tsp salt
1/4 tsp black pepper
5 cups cubed HarvesTime seedless watermelon
1 English cucumber, halved lengthwise and thinly sliced (about 2 cups)
1/2 medium red onion, thinly sliced (about 1 cup)
2 tbsp chopped fresh mint leaves
Directions
Whisk together the lime juice, lime zest, vinegar, olive oil, salt, and black pepper in a large bowl.
Add the watermelon, cucumber, and red onion, and gently toss to coat.
Right before serving, top with the fresh mint.
Notes
You can store this salad in an airtight container in the fridge for up to 3 days!
Did you know Eagle Eye Produce grows millions of pounds of watermelon each year? Find more here!
Recipe courtesy of An Edible Mosaic