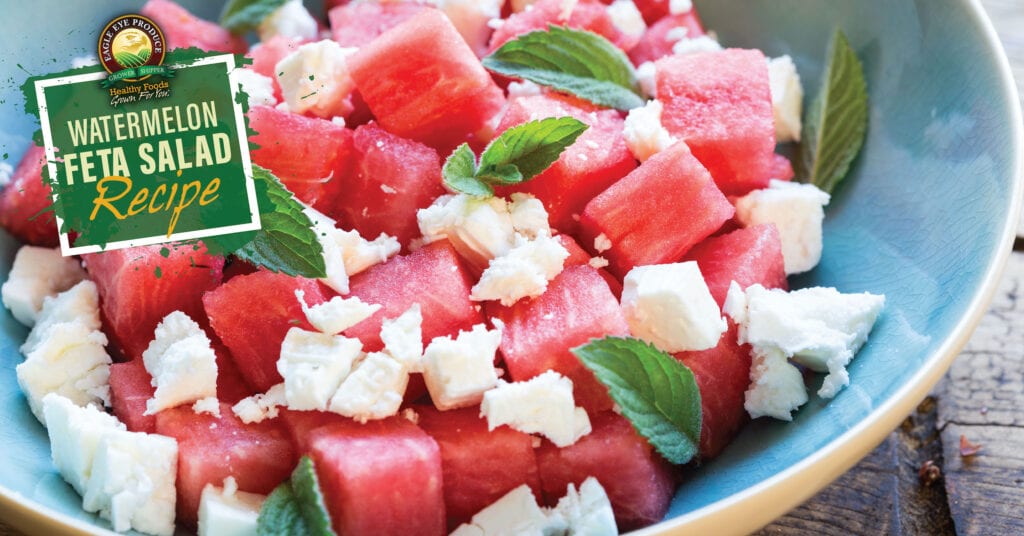 This refreshing, sweet, and salty Watermelon Feta Salad recipe is perfect for a hot summer day. Sweet and ripe HarvesTime watermelon paired with feta cheese, fresh mint, olive oil, and lime juice.
Ingredients
1 large HarvesTime seedless watermelon
1/4 cup of olive oil
1/4 cup whole limes
1 1/2 tsp salt
3/4 tsp black pepper
1 cup chopped fresh mint leaves
1 1/2 cups crumbled feta cheese
Directions
Cut your watermelon into chunks. Remove the rind and place watermelon chunks into a strainer to drain excess water as you chop.
Whisk olive oil, squeezed lime juice, salt, and pepper in a small bowl.
Place watermelon chunks into a large serving bowl. Pour your whisked dressing place chopped mint over the watermelon. Toss the salad gently to coat the dressing throughout the salad. Pour the feta cheese and toss or stir gently again to distribute the cheese throughout the salad.
Serve & enjoy!
Did you know Eagle Eye Produce grows watermelon under the HarvesTime® brand? Find out more here!