Watermelon Cheesecake Bites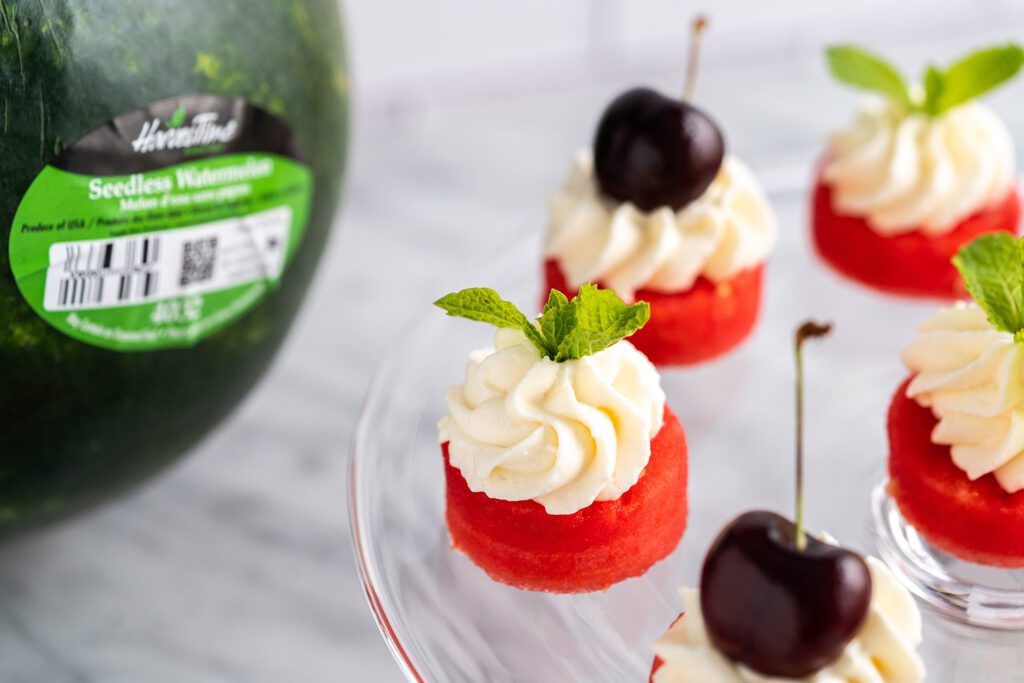 Calling all cheesecake lovers! These watermelon cheesecake bites are for you. With HarvesTime watermelon circles as the base, these bites of bliss are topped with a quick and easy no-bake cheesecake mousse. You can whip these up in a fraction of the time that it takes to make a regular cheesecake, and it's a good way to get in some fruit too! Have your cake and eat it too!
Yields 15 bites
Prep Time: 20 minutes
Cook Time: N/A
Other Time (Chill Time): 20 minutes
Cheesecake Ingredients
1/2 cup heavy whipping cream
4 ounces cream cheese, at room temperature
2 tbsp powdered sugar
3/4 teaspoon vanilla
Other Ingredients
3 3/4 inch thick cross-section slices of HarvesTime Seedless Watermelon
Fresh cherries, berries, or mint sprigs for garnish
Directions
Whip the cream to stiff peaks in a medium bowl. In a separate medium bowl, beat together the cream cheese, powdered sugar, and vanilla. Fold the whipped cream into the cream cheese mixture 1/3 at a time. Refrigerate 20 minutes.
Use a 1 1/2 to 2-inch circle cookie or biscuit cutter to stamp out circles from the watermelon cross sections. Pat them dry with paper towels.
Transfer the cheesecake mixture to a piping bag fitted with a star tip. Pipe a dollop of cheesecake on top of each watermelon circle.
Garnish the tops with fresh cherries, berries, mint, etc.
Serve & enjoy!
Did you know Eagle Eye Produce grows millions of pounds of watermelon each year? Find more here!
Recipe courtesy of An Edible Mosaic