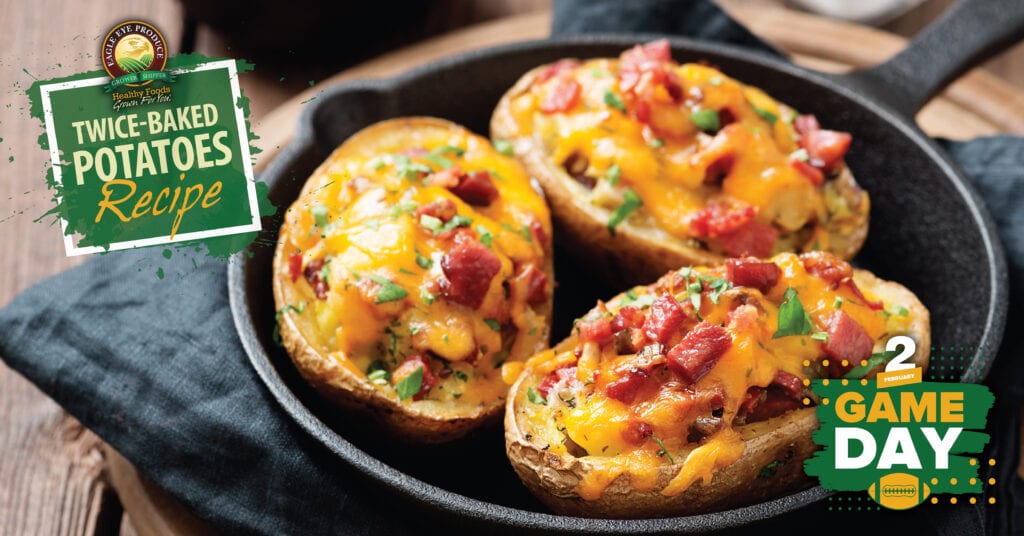 No game day is complete without this traditional potato recipe. These Twice-Baked Potatoes are perfectly crispy and garnished with all of your favorite flavors.
Ingredients
8 Large Russet Potatoes
3 Tablespoons of Canola Oil
2 Sticks of Salted Butter
1 Cup of Bacon Bits
1 Cup Sour Cream
1 Cup Cheddar Cheese
1 Cup Whole Milk
2 Teaspoons Seasoned Salt
3 sliced Green Onions
Ground Black Pepper
Directions
Preheat your oven to 400 degrees F. and grease a baking pan with cooking spray.
Place the potatoes on the greased baking sheet and rub them with the canola oil and bake for 1 hour. Make sure they are easy to pierce with a fork or knife before taking them out of the oven.
Cut up your butter into even slices. Mix your butter, bacon bits, and sour cream in a large bowl.
Remove the cooked potatoes from the oven and lower the heat to 350 degrees F.
Use a sharp knife to cut each potato in half lengthwise. Scrape out the meat of the potato and place them in a large mixing bowl. Leave a small rim of potato intact for support. Place the hollowed-out potato shells back on the baking sheet.
Mix the potato meat in the butter, bacon and sour cream. Add the cheese, milk, seasoned salt, green onions, and pepper to taste and mix together well.
Fill the potato shells with the mixed filling. After they are filled, top each potato half with more grated cheese and place them in the oven for 15-20 minutes. Enjoy!
Did you know Eagle Eye Produce grows, and ships over 500 million pounds of potatoes each year? Find out more here!