Swiss Fondue Charcuterie Board with Steam'd Baby Potatoes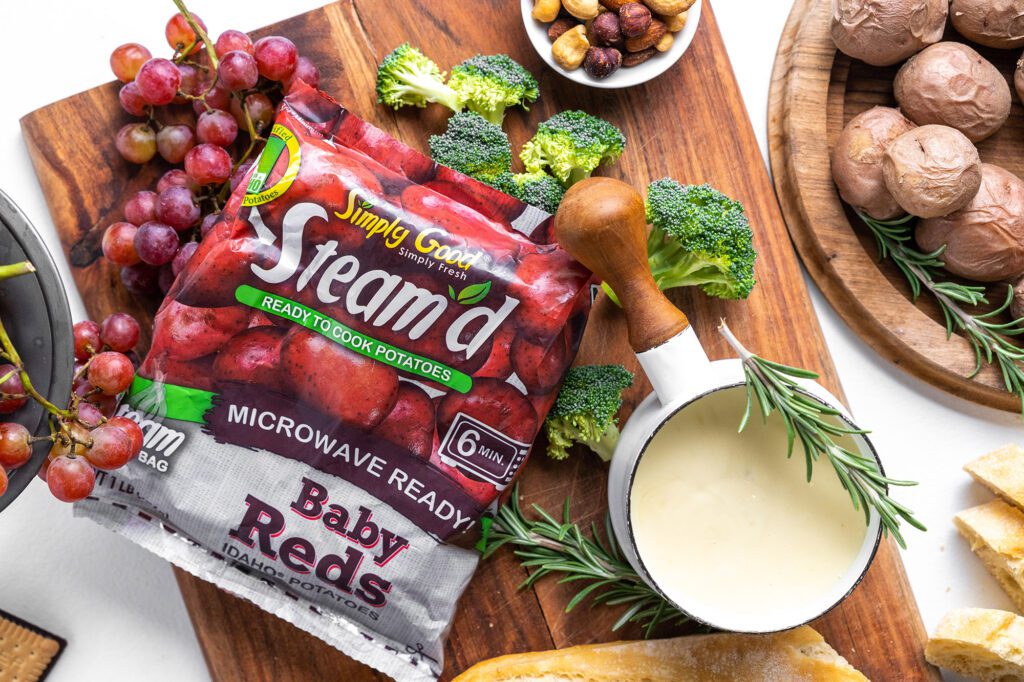 Potatoes and cheese are a match made in heaven & with this dish you get plenty of both. This Swiss Fondue & Charcuterie board with our delicious & extremely dip-able baby red Steam'd potatoes will be the show-stealer for any of your get-togethers. Thank you to the extremely talented An Edible Mosaic for this cheesy creation!
Servings: 6
Prep Time: 10 minutes
Cook Time: 15 minutes
Ingredients
Swiss Fondue:
1/2 clove garlic
1/2 pound Gruyère cheese, shredded
1/2 pound Emmentaler cheese, shredded
3 teaspoons cornstarch
1 teaspoon fresh lemon juice
1 cup dry white wine
1 pinch freshly-ground black pepper
1 pinch freshly-grated nutmeg
For Serving:
1 (1 pound) bag of Simply Good Steam'd Baby Reds Idaho Potatoes
Cornichons or baby dill pickles
Sliced baguette or crackers
Fresh fruit, just as grapes, apple, or pear
Fresh broccoli or cauliflower florets
Mixed nuts
Assorted jams
Fresh herbs
Directions
To Make the Fondue:
Rub the garlic clove on the inside of a fondue pot or 3-quart saucepan.
Toss the cheeses and cornstarch together until the cheese is coated with cornstarch.
Add the cheese mixture, lemon juice, and white wine to the prepared pan.
Heat over medium heat until the cheese melts, about 5 minutes, stirring frequently.
Once the cheese starts to melt, turn the heat down to medium-low and continue cooking until the cheese is fully melted and smooth without being stringy, slowly stirring constantly. This takes about 5 to 10 minutes.
To Serve:
Serve the fondue immediately along with baby red potatoes and anything else you like.
NOTES
Fondue should be eaten warm, but no worries if you don't have a special fondue pot! You can place this on a hot plate set to warm while your guests dip in.
Want to try out our Steam'd Ready to Cook Baby Potatoes? Find out more here!