Southwest Baked Salmon with Fresh Blends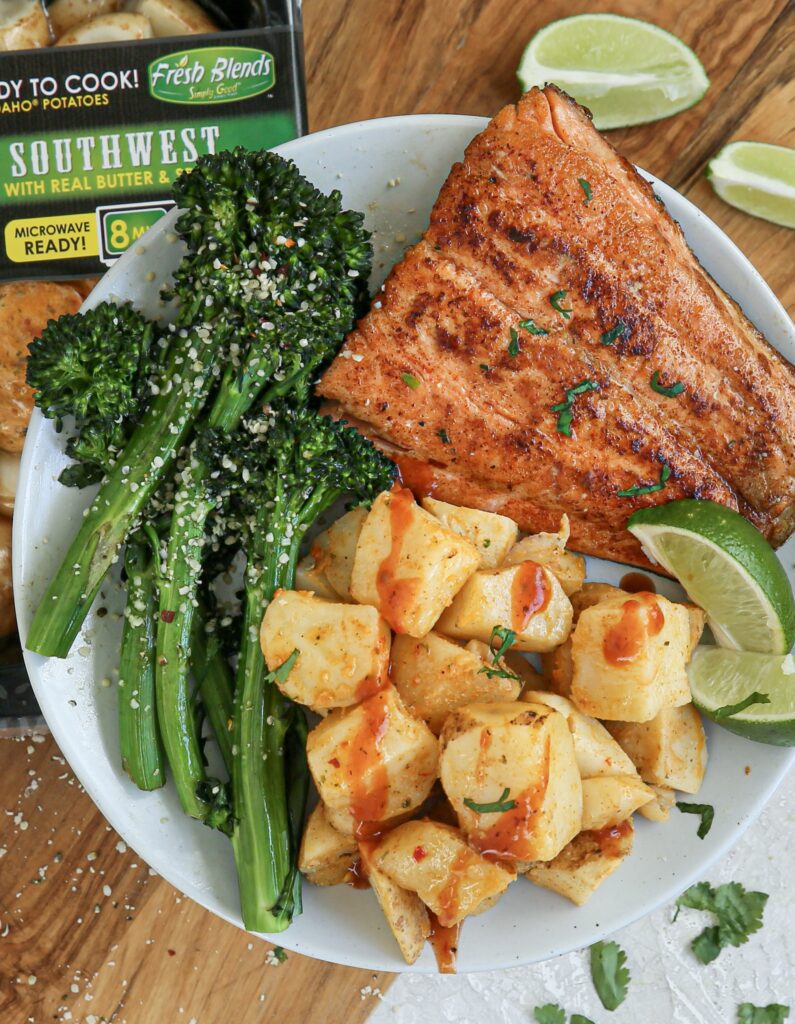 Meat & Potatoes. Is there anything better? This hearty, flavorful meal features fresh-baked seasoned salmon and our Southwest Fresh Blends for a quick, healthy, & delicious meal with just the right amount of heat.
Southwest Seasoning Ingredients
1 1/2 teaspoons chili powder
1 1/2 teaspoons paprika
3/4 teaspoon ground coriander
3/4 teaspoon garlic powder
3/4 teaspoon dried oregano
3/4 teaspoon kosher salt
1/2 teaspoon ground cumin
1/4 teaspoon black pepper
1/4 teaspoon cayenne pepper (can reduce or omit)
Salmon Ingredients
4 6 oz. wild salmon filets
2 tbsp. unsalted butter, cut into 4 pieces
Directions
Preheat the broiler on high and place a rack about 4-6 inches from the broiler. Line a baking sheet with aluminum foil for easy clean-up. Spray with cooking spray.
Combine all southwest seasoning ingredients in a bowl and mix.
Place salmon fillets on the baking sheet, skin side down first.
Generously season the tops of each salmon piece with the seasoning mixture. Top each salmon filet with a pat of butter.
Broil salmon on high for 6-8 minutes. You will know the salmon is ready when it flakes easily. Cooking time will vary depending on salmon thickness.
While salmon is broiling, cook Fresh Blends potatoes in the microwave for 8 minutes.

Let salmon and Fresh Blends rest for 3-4 minutes.

Plate & serve with desired toppings (salsa, avocado, guacamole, cilantro, hot sauce, fresh lime)
Use our Store Locator to find Fresh Blends near you!