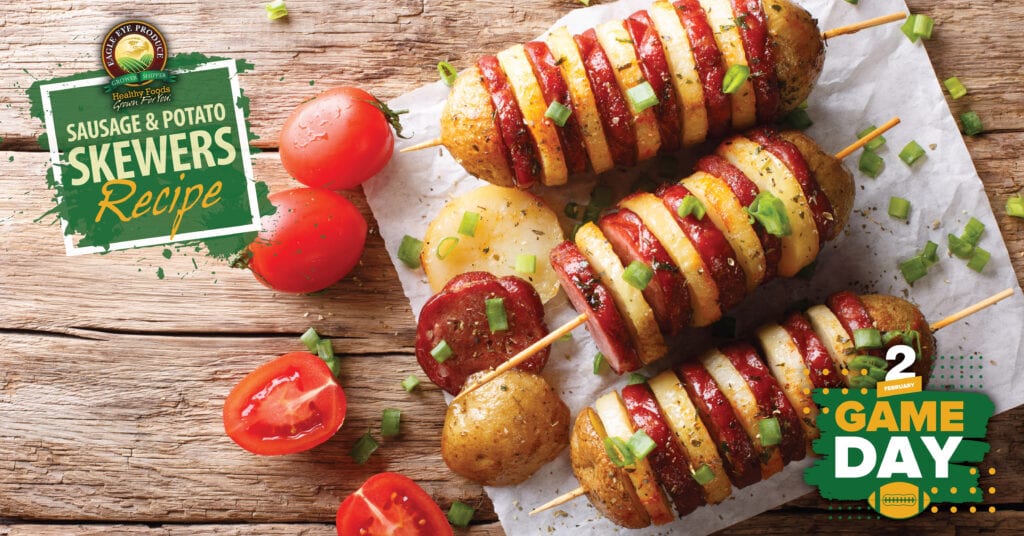 These Sausage and Potato Skewers are a great Game Day snack. A tender, crispy, lightly seasoned, meal on a stick!
Ingredients
1 lb Italian Sausage Links (cut into 1/4 – 1/2-inch pieces)
2 lbs. Small Red Potatoes (washed)
2 Teaspoons of Olive Oil
2 Tablespoons of chopped Fresh Rosemary
2 Cloves of finely chopped Garlic
Salt
Bamboo Skewers (soaked in water)
Directions
Bring a large pot of water to boil and add your small red potatoes. Boil the potatoes for about 8 minutes and remove and drain the potatoes. Let them cool for about 10 minutes and dry completely with a towel or paper towel. After they cool, cut them into 1/4 – 1/2-inch slices.
Combine the olive oil, garlic, and salt in a large bowl. Stir well. Add in potatoes and toss to completely coat the potatoes in the oil and seasoning. Remove the bamboo skewers from soaking in water and alternate skewering the sausage pieces, and potatoes.
Place the loaded skewers on a grill over medium-high heat and cook uncovered. Rotate the skewers every 3 minutes. Remove the skewers from the grill after about 12 minutes, or until potatoes are tender and golden brown. Enjoy!
Did you know Eagle Eye Produce grows, and ships over 500 million pounds of potatoes each year? Find out more here!