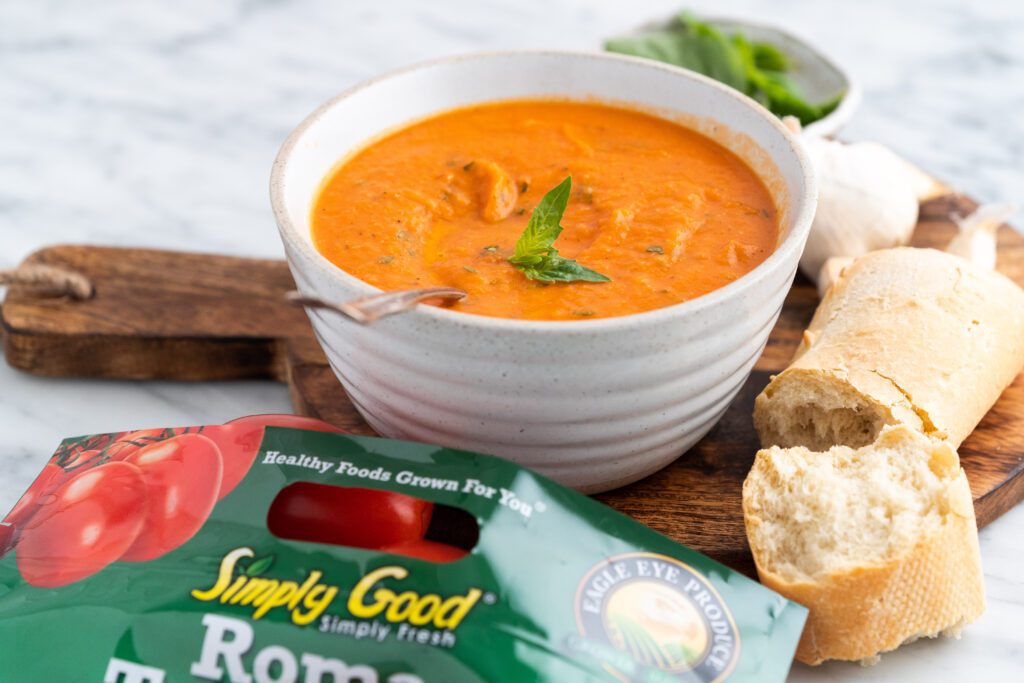 Soup from a can can't compete with homemade tomato soup! This tomato soup recipe is easy to make and the perfect meal as the weather turns colder.
Yields: 3 cups (2 1.5-cup servings)
Prep Time: 10 minutes
Cook Time: 30 minutes
Ingredients:
1 3/4 to 2 pounds Eagle Eye Produce Simply Good Roma Tomatoes, quartered
1 medium onion, peeled and quartered
6 large cloves garlic, peeled and left whole
4 tablespoons olive oil
1/2 cup water
3/4 teaspoon salt
1/2 teaspoon dried oregano
1/4 teaspoon black pepper
1/4 cup fresh basil leaves, plus more for serving
Directions:
Preheat the oven to 425F.
Toss the tomato, onion, garlic, and olive oil on a large baking tray, and spread it out evenly. Roast until the vegetables are tender and starting to brown, about 25 minutes. If you want, broil a couple minutes to char the vegetables more.
Add the roasted vegetables, water, salt, dried oregano, and black pepper to a food processor and process until it has the texture you like for soup. Add the basil and pulse a few times to chop.
Serve topped with more fresh basil, or keep in an airtight container in the fridge for up to 5 days.