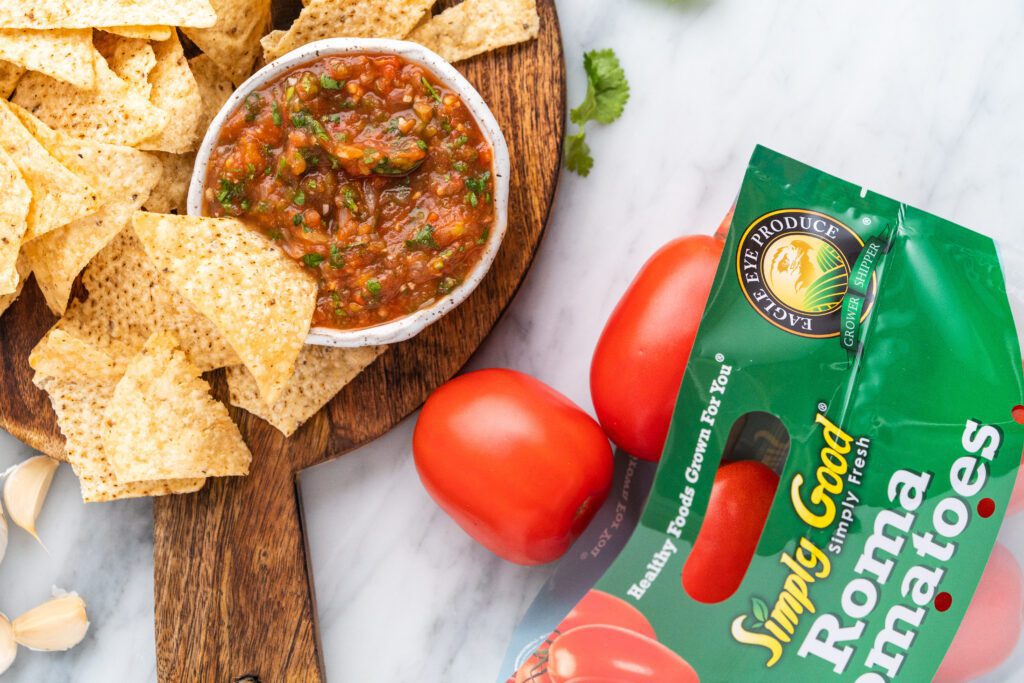 You could buy salsa from the store OR you could make this salsa exactly how you like it. This salsa is easy to make and can be customized to your liking!
Yields: 2 3/4 cups
Prep Time: 10 minutes
Cook Time: 30 minutes
Ingredients:
1 3/4 to 2 pounds Eagle Eye Produce Simply Good Roma Tomatoes, quartered
1 medium onion, peeled and quartered
2 jalapenos, stems removed, deseeded, and quartered (leave the seeds if you want more heat)
6 large cloves garlic, peeled and left whole
3/4 teaspoon salt
1/2 teaspoon cumin
1 tablespoon fresh lime juice
1 cup cilantro leaves
Directions:
Preheat the oven to 425F.
Spread the tomato, onion, jalapeno, and garlic out onto a large baking tray. Roast until the vegetables are tender and starting to brown, about 25 minutes. If you want, broil for a couple of minutes to char the vegetables more.
Add the roasted vegetables, salt, and cumin to a food processor and process until it has the texture you like for salsa. Cool for 10 minutes. Add the lime juice and cilantro and pulse a few times to chop the cilantro.
Serve, or keep in an airtight container in the fridge for up to 5 days.