Queso Smashed Baby Yellow Potatoes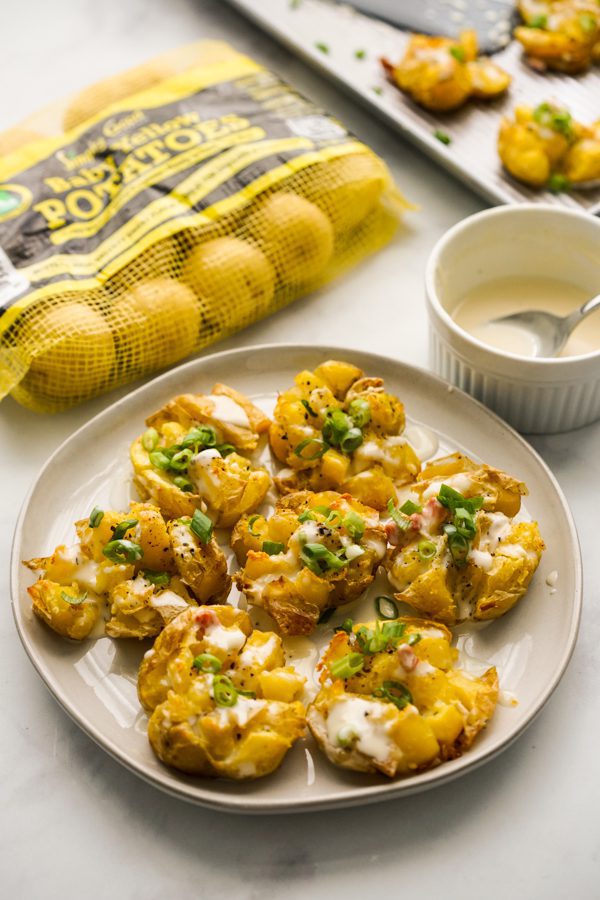 These cheesy queso smashed baby yellow potatoes are the ultimate appetizer, snack, or game-day dish. Crispy, savory, and tender Simply Good Simply Fresh Baby Yellow Potatoes drizzled with creamy cheese sauce. We could eat this every day. It's that good!
Servings: 4
Cook Time: 10 minutes
Ingredients
1.5 lbs Simply Good Simply Fresh® baby yellow potatoes
1 tbsp vegetable oil
Salt & pepper to taste
1 cup queso
¼ cup chopped green onions.
Directions
Bring water to a boil in a pot, then add unpeeled baby yellow potatoes. Boil potatoes for 15 minutes. Drain water and let potatoes cool for 10 minutes.
Preheat oven at 400℉.
Using a potato masher, lightly smash each baby yellow potato but avoid breaking it apart completely.
Place smashed potatoes at least 1-inch apart on a baking sheet. Drizzle each potato with vegetable oil and lightly sprinkle with salt and pepper.
Bake for 30-35 minutes.
Heat Queso and drizzle it onto potatoes, then sprinkle potatoes with chopped green onions.
Serve with leftover queso on the side…and enjoy!
Want to learn more about our Simply Good Simply Fresh Baby Potatoes? Find more here!