Old Fashioned Onion Rings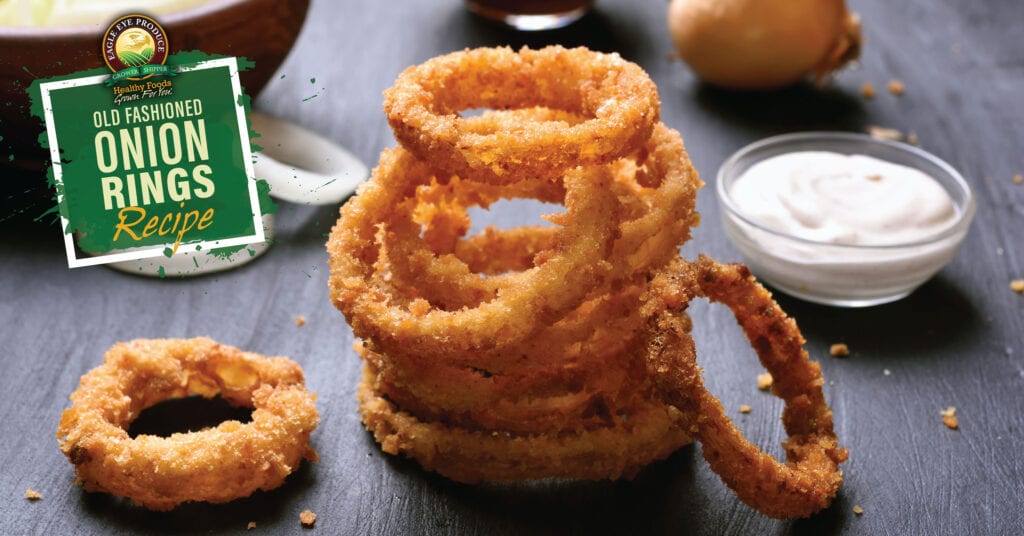 You know what they say. When life gives you onions make onion rings. There's nothing better than the crunch and flavor of an old fashioned fried onion ring.
Ingredients
1 large onion, cut into 1/4 inch slices
1 1/4 cups flour
1 tsp. baking powder
1 tsp. salt
1 egg
1 cup of milk
3/4 cup dry bread crumbs
Salt
1-quart oil
Directions
Heat the oil in a deep-fryer to 365 degrees F.
Separate the 1/4 inch slices of onions into rings.
In a small bowl, stir flour, baking powder, and salt.
Dip the onion rings into the batter. Make sure you coat the entire ring.
Whisk the egg and milk into the flour mixture using a fork.
Dip the floured rings into the new batter and coat the entire ring. Place rings on a rack to drain excess batter.
Spread bread crumbs out on a plate and place rings one by one into the crumbs.
Deep fry the rings a few at a time for 2-3 minutes. When they are golden brown they are ready. Remove and dab with paper towels to remove excess oil.
Season with salt. Serve & enjoy!
Did you know Eagle Eye Produce grows onions under the Harvest Select® brand? Find out more here!