Mini Twice Baked Potatoes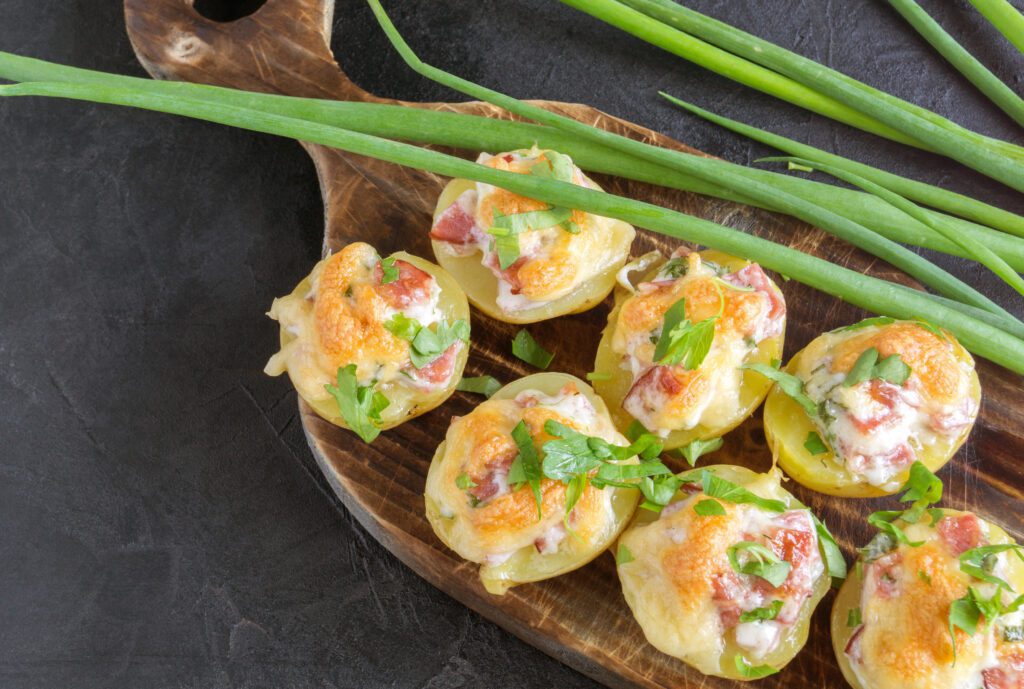 Are you looking for the perfect side dish for your Easter dinner? Look no further! These mini twice-baked potatoes are cute, festive, and bring on all the spring feels. Happy Easter!🐣
Ingredients:
16 baby potatoes scrubbed
1/2 cup cheddar cheese
1/4 cup sour cream
2 strips cooked bacon crumbled
1 tbsp butter melted
2 tbsps chives
2 tbsps olive oil
Salt and pepper
Parsley for garnish
Directions:
Preheat the oven to 450 degrees.
Prick each potato a few times with a fork. On a microwave-safe plate, lined with paper towels, arrange the potatoes in a single layer.
Microwave the potatoes on high for 4 minutes. Turn the potatoes over and microwave for an additional 4 minutes.
Halve each potato lengthwise and scoop out the center into a medium bowl, leaving 1/4″ layer of potato on each side of the skin.
On a baking sheet, arrange the potato halves skin side up. Brush with olive oil and sprinkle with salt.
Remove from the oven after 10 minutes or until the skins are crispy. Set the oven to broil.
Add cheese, sour cream, scallions, butter, 1 teaspoon salt, and 1/2 teaspoon pepper to the bowl with the scooped potato filling. Mix together.
Divide the filling among the crisped potato skins. Return filled potato skins to the oven and broil until cheese in melted and bubbly. Remove from oven and top with bacon bits. Garnish with parsley if desired and serve warm.