Loaded Mashed Idaho Potato Spider Web Casserole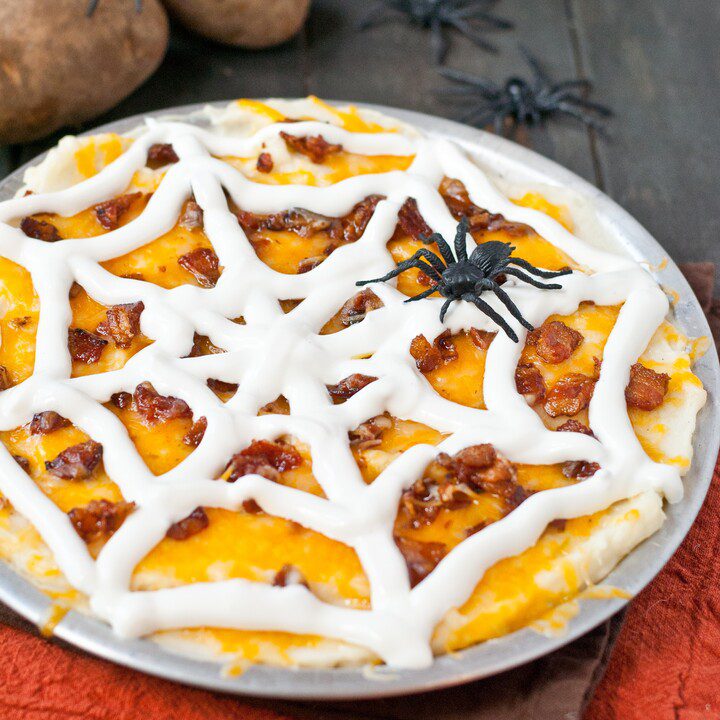 We know there's a lot you have to do for Halloween- planning costumes, decorations, and navigating endless Halloween parties and events, so here's a simple Halloween recipe that will add to the fun but not the chaos. It's quick, easy, and festive! Happy Halloween!🎃👻
Ingredients:
2 pounds Idaho® potatoes
1 tablespoon salt
4 tablespoons butter
¾-1 cup milk or half and half
additional salt and pepper, to taste
4 ounces cheddar or Colby jack cheese, shredded
8 slices bacon
⅓ cup sour cream
Directions:
Preheat the oven to 350°F.
Bring a large pot of water to a simmer on the stove top. Peel and chop the potatoes into medium sized chunks. Add the potatoes and a tablespoon of salt to the water and bring to a boil. Boil for 20-25 minutes or until the potatoes are easily pierced with a fork, but not falling apart.
Meanwhile, fry the bacon on the stovetop until crispy. Remove the bacon strips to a paper towel lined plate. Once they're cool enough to handle, crumble the bacon and set aside.
When the potatoes are done, drain them in a colander, and then return them to the pot. Place the pot back on the burner, turn it down to low, and use a potato masher to mash the potatoes. Allow the steam to escape, continuing to mash until no lumps remain.
Turn off the heat, then add four tablespoons of butter and ½ cup of milk or cream. Slowly mash in the added ingredients until smooth. Continue to add the cream, a little bit at a time, until the desired consistency is reached. Sometimes I add a full cup, and sometimes it's only ¾ cup. Taste the potatoes and season with salt and pepper as needed.
Spread the potatoes out into a 9 inch deep dish pie dish and cover with shredded cheese and the crumbled bacon. Bake for 20-30 minutes or until cheese is melted. Allow the casserole to cool for 10-15 minutes before adding the spider web.
To make the web, add the sour cream to a zip lock bag and cut a tiny hole in one corner. Twist the bag above the sour cream and use your hand to squeeze the sour cream towards the hole. You may want to practice drawing a line once or twice before doing it on the casserole. You'll start the web by drawing four straight lines through the center of the casserole, like you would cut a pie. Start by making a T through the center, and then follow that with an X through the center. In the end, you should have eight equal spaces. Starting in the center of the pie, draw a small circle, connecting each of the eight sections. Move a few inches outward and draw another circle. Move another inch or two outward and draw one final circle. Top with a fake spider or one made from olives. Serve while the potatoes are still warm. You can also prepare this ahead of time, refrigerate, then bake the day of and add the spider web right before serving.