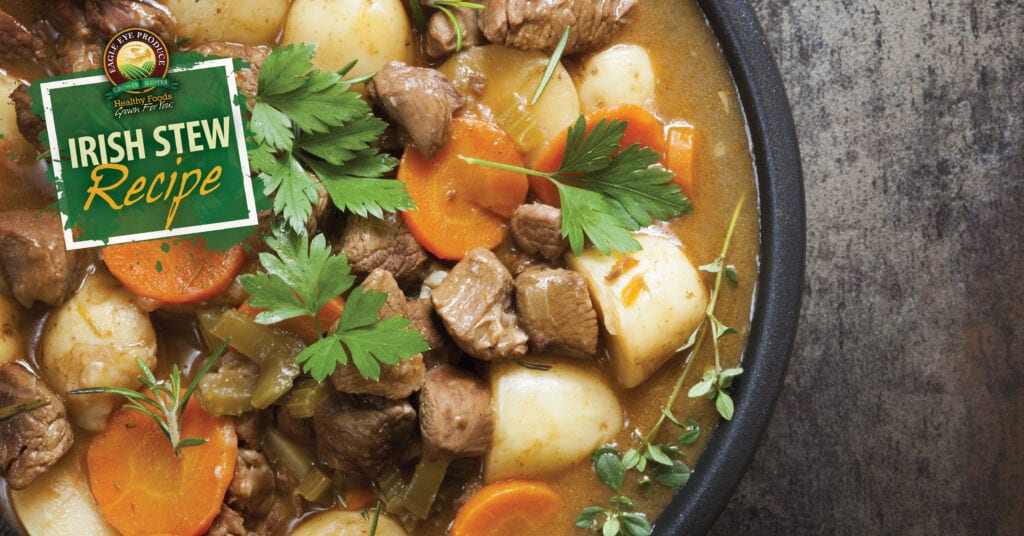 This traditional Irish stew is the perfect way to cap off a St. Patrick's Day celebration, but it's good enough to eat throughout the year. This stew is absolutely hearty and delicious, and it just so happens to be Ireland's National Dish!
Ingredients
3 tablespoons Vegetable Oil
2 lb. Beef Chuck Stew Meat (cubed into 1″ pieces)
Salt & Pepper
1 Cup Onion
2 medium-sized Carrots (peeled and cut into rounds)
2 Stalks Celery (chopped)
3 Cloves Garlic (minced)
3 Medium Russet Potatoes (peeled and cut into large chunks)
4 cups Beef Broth
2 teaspoons Thyme
Parsley (freshly chopped)
Directions
Heat 2 tablespoons vegetable oil in a large Dutch oven over medium heat. Season beef with salt and pepper then add to pot and cook on every side until each cube is seared. Transfer beef to a plate when done.
In the same pot, add remaining vegetable oil and cook the onion, carrots, and celery until soft. This usually takes about 5 minutes. Season with salt and pepper and add garlic. Cook for 1-2 minutes.
Add beef back into the Dutch oven and then add potatoes, broth, and thyme. Bring to a boil and then reduce heat to medium. Season with salt and pepper. Cover and let simmer until beef and potatoes are tender. 30-35 minutes.
Serve warm and garnish with freshly chopped parsley.
Did you know Eagle Eye Produce grows potatoes and onions? Find out more here!