Honey Glazed Grilled Watermelon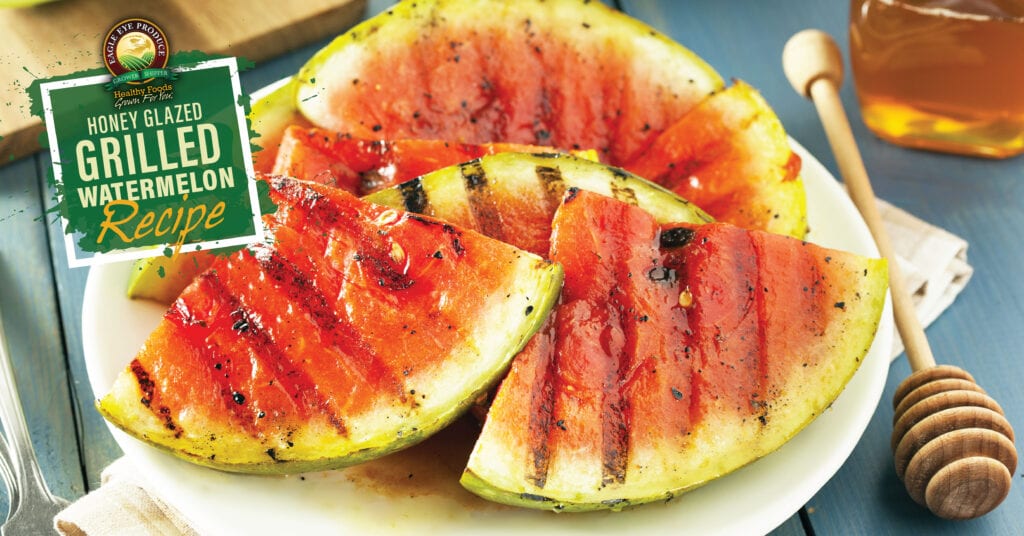 Looking for a fun appetizer at your memorial day weekend BBQ? This Honey Glazed Grilled Watermelon recipe is sure to do the trick with a sweet, caramelized, smoky flavor sure to get your weekend off to a good start.
Ingredients
8 Slices of Seedless Watermelon
2 Tablespoons Honey
Salt & Pepper
Directions
Preheat your grill on High.
Lightly salt your watermelon slices, and stand them on their rinds to help drain the excess water. This usually takes 10-15 minutes.
Once your slices are drained, use a paper towel and dab the slices gently to remove water.
Use a brush and light cover the watermelon slices with honey. Make sure you cover the entire surface area. This will help keep the watermelon soft while having a good sear.
Place your slices on the grill. It usually takes 2-3 minutes on each side. Do not cook for too long, you just want them on long enough to get nice grill marks on both sides.
Serve and Enjoy!
Did you know Eagle Eye Produce grows watermelon under the HarvesTime® brand? Find out more here!