Herb-Marinated London Broil with Tiny Taters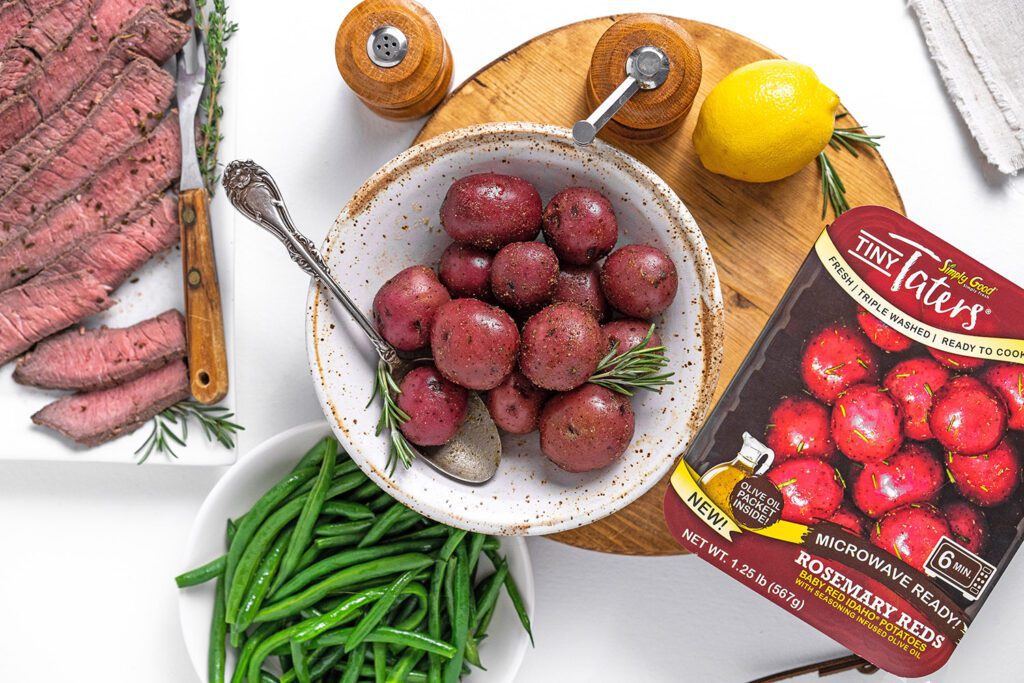 Meat & potatoes. The perfect pair. This London broil is deliciously tender, juicy, and it pairs perfectly with our Rosemary Red Tiny Taters. Serve it with a simple marinade full of fresh herbs, garlic, and steamed green beans for a meal that's sure to impress. With some planning, this recipe is easier than you would suspect, and it cooks right in your broiler!
Prep Time: 10 minutes
Cook Time: 12 minutes
Servings: 8
Ingredients
2 tbsp red wine vinegar
4 tbsp olive oil
3 large cloves, garlic, crushed
1 tbsp. minced fresh rosemary
1 tbsp. minced fresh thyme
1 tbsp. fresh lemon juice
1 tsp. salt
1/4 tsp. black pepper
2.5lb London broil steak
Directions
Add the vinegar, oil, garlic, rosemary, thyme, lemon juice, salt, black pepper, and steak to a gallon-size plastic bag.
Seal the bag and squeeze everything around, massaging the meat.
Place the bag in a large bowl and refrigerate for 4 hours (or overnight).
Remove the steak from the fridge and let it sit for 10 minutes. Position a rack directly under the broiler. Preheat the broiler to HIGH.
Cover a baking tray with foil. Remove the steak from the plastic bag (and discard the bag and marinade), and transfer it to the prepared tray.
Broil the steak for 6 to 8 minutes on the first side and then flip and broil about 4 to 5 minutes on the second side, or until an internal temperature reaches 125F (for medium rare).
Let the steak rest for 10 minutes before thinly slicing across the grain.
Use our store locator tool to find Tiny Taters near you!
Thank you to the incredibly talented Faith Gorsky & An Edible Mosaic for this delicious recipe!