Grilled Chicken & Watermelon Salsa Tacos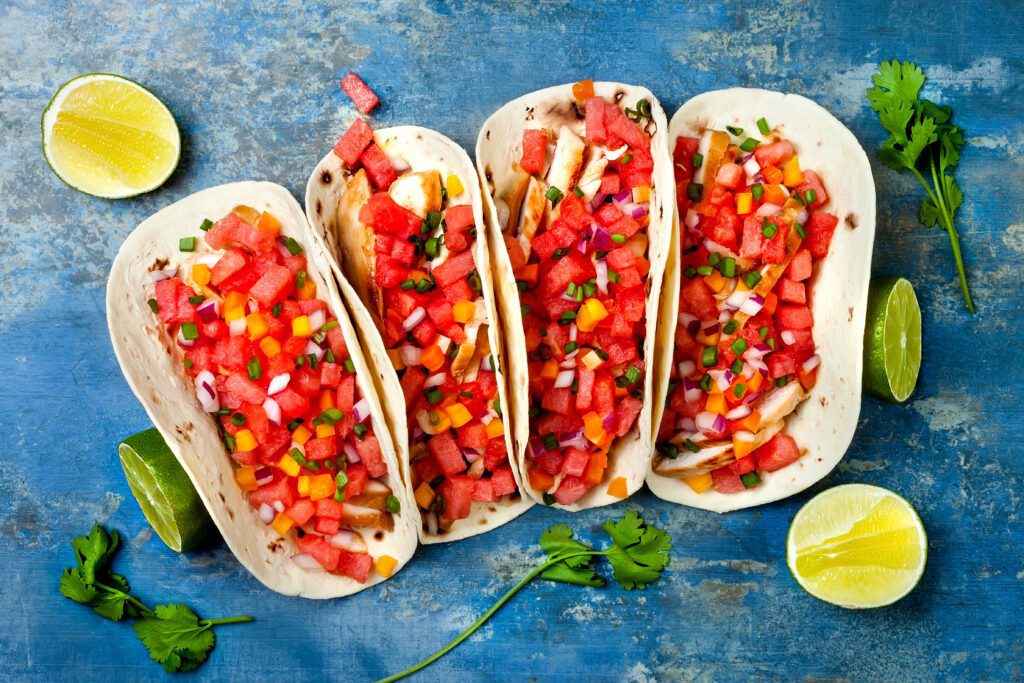 Did someone say Taco Tuesday? Celebrate what's left of summer with this refreshing twist on grilled chicken tacos! In only 20 minutes you'll have a recipe that delivers an explosion of diverse flavors with each bite.
Ingredients
4 tomatillos, husked and rinsed
1 large jalapeno pepper
1 small red onion (diced)
2 tbsp extra virgin olive oil
3 cups shredded rotisserie chicken
2 limes (juiced)
2 limes (wedged)
salt & pepper
2 cups chopped watermelon
1 1/2 cup cilantro
12 corn or flour tortillas
1 avocado (chopped)
Directions
Heat a large pan or skillet over high heat. Add jalapeno and red onions. Cook for 7-8 minutes. Transfer to cutting board. Chop jalapeno.
Heat 1 tbsp olive oil in a pan or skillet over medium-high heat. Add chopped onions, and half of the jalapeno. Cook for 2-3 minutes. Add chicken, lime juice, salt, pepper. Simmer about 2 minutes.
Combine watermelon, 1/2 cup cilantro, red onion, remaining jalapeno, juice of 1 lime, and1 tbsp olive oil into bowl. Season with 1/4 tsp salt and pepper to taste. Warm tortillas.
Add remaining 1 cup of cilantro to the chicken mixture. Split into the tortillas. Top with watermelon salsa from bowl, and avocado. Serve with lime wedges. Enjoy!
Did you know Eagle Eye Produce grows watermelon? Find out more here!