Garlic & Herbs Smashed Potatoes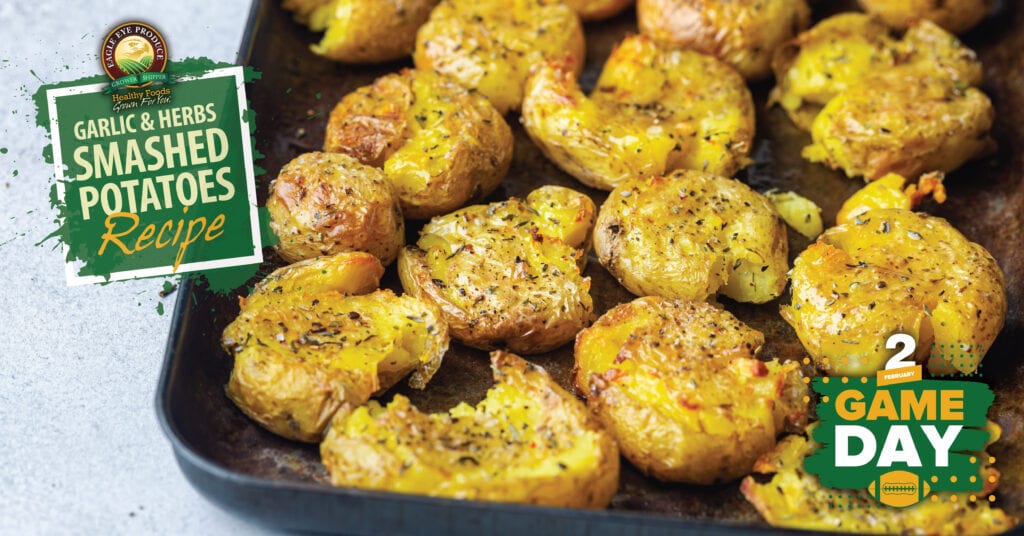 These Garlic & Herbs Smashed Potatoes are the perfect Game Day snack. With just the right amount of crunch on the outside and fluffiness on the inside.
Ingredients
2lbs of Yellow Potatoes
3 tablespoons Olive Oil
5 Cloves of finely minced Garlic
1/2 Tablespoon finely minced Fresh Rosemary
1/2 Tablespoon finely minced Fresh Thyme Leaves
Salt & Pepper (Flavored to Taste)
Directions
Preheat your oven to 450 degrees F. and grease a baking pan with cooking spray.
Boil water in a large pot. Wash your potatoes and place them in the pot of boiling water. After 15-30 minutes, or until tender, take the potatoes out of the pot and place them in the baking sheet to let them cool.
While your potatoes are cooling or cooking, grab a small bowl and mix the oil, garlic, rosemary, thyme, salt, and pepper until uniform, and set aside for now.
Spread your potatoes evenly on your baking sheet. Using a potato masher, press down on the potatoes to "smash" them until they are about 1/2 inch thick. Press down on them slowly so they don't break. Spread your olive oil mixture over the potatoes evenly. Try to cover the entire surface of every potato.
Place the potatoes in the oven for 20 minutes (or until they are crispy golden brown)
Take your potatoes out of the oven and serve them with dipping sauces of your choice!
Did you know Eagle Eye Produce grows, and ships over 500 million pounds of potatoes each year? Find out more here!