Fried Potato Cheese Balls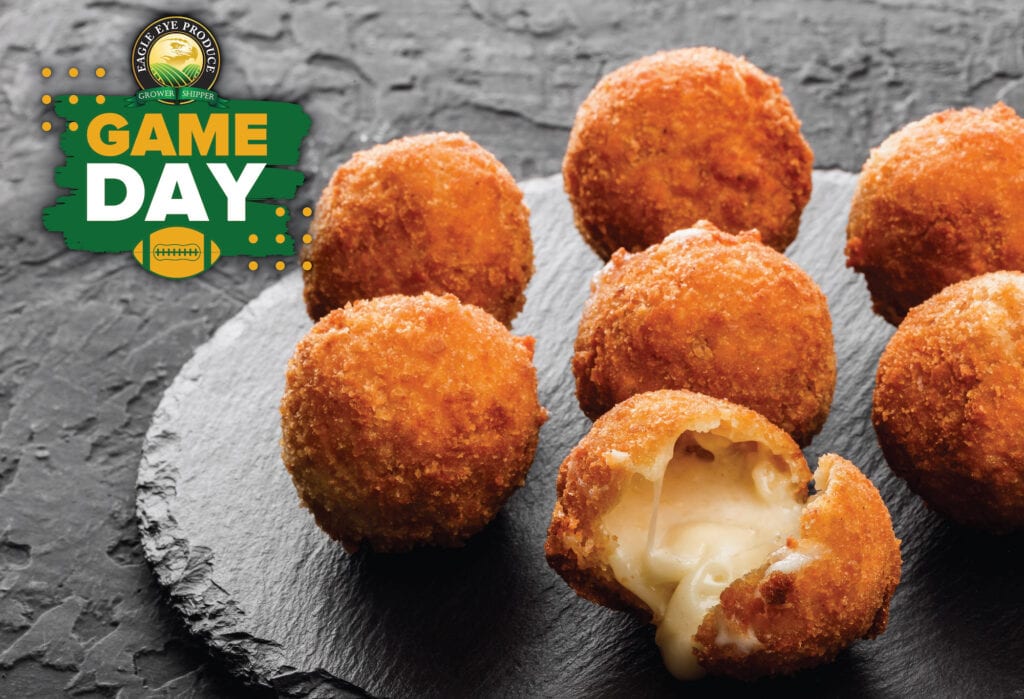 These crispy, creamy, fried potato cheese balls are everything you need on game day. Easy to make and portable enough to share!
Ingredients
2 large russet potatoes
1 tbsp cream
Salt
40 1/2″ cubes of mozzarella cheese
1 cup All-purpose Flour
2 Eggs
Breadcrumbs
1-2 cups Oil
Directions
Peel and boil the yellow potatoes & cut them into large, even chunks.
Place the potato chunks into a large pot and cover with cold water. Add salt generously. Turn the heat up on the stove to medium-high. When the water begins to simmer set a timer for 15 minutes. After 15 minutes check to see if potatoes are tender with a fork. If done, drain the water from the potatoes.
Mash the potatoes lightly until they don't have any lumps. Stir in 1 tablespoon of cream and whip lightly. Spread the potatoes out in a large baking dish. Let the potatoes cool until they are at room temp.
Use an ice cream scoop to scoop out about 2 tablespoons of potato and then pat into a round patty. Place a cube of mozzarella cheese in the center of the patty and bring the edges of the potato patty up around the cheese. The cheese should be completely encased in potato. Once it is, lightly roll the potato ball with your hands.
Grab 3 large bowls. Place flour in the first bowl. Whisked egg in the 2nd bowl. Bread crumbs in the third bowl. Coat each of the potato balls with flour, egg, and then bread crumbs. Make sure every bit of the potato ball is coated before moving on.
Deep fry the potato balls. Heat oil on medium-high heat. When the oil is ready gently lower each potato ball one by one into the oil. Turn and move around gently until all sides are golden brown. Once done, let each ball drain on a wire rack.
Did you know Eagle Eye Produce grows potatoes? Find out more here!