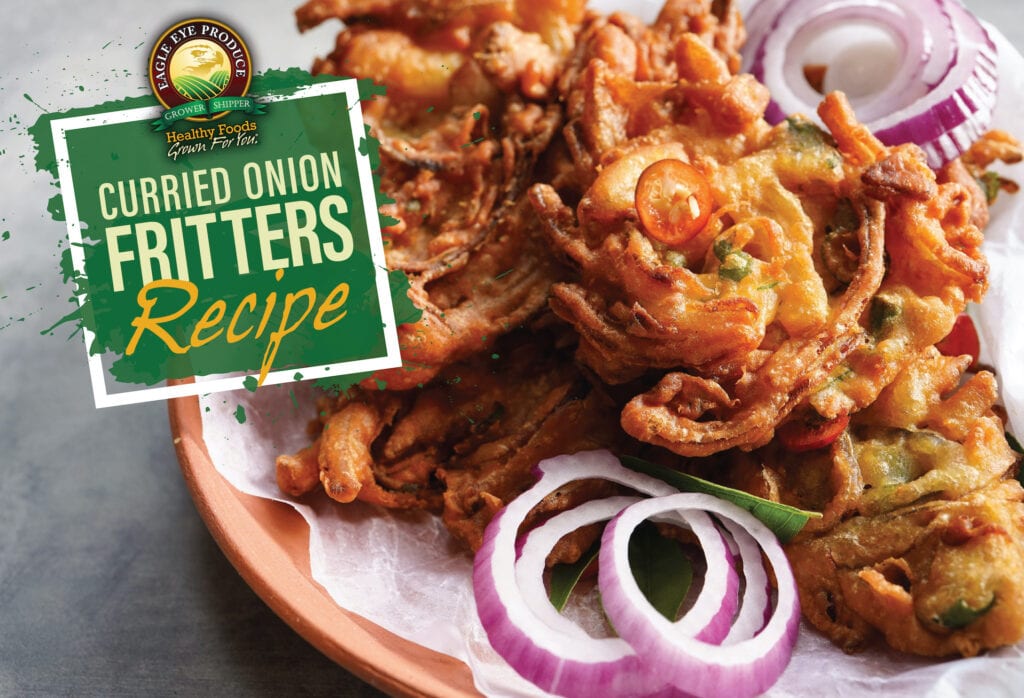 These crunchy curried onion fritters are hard to say no to! They are packed with flavor, easy to make, and easy to share.
Ingredients
2 large onions
1/2 cup water
1 tsp chili powder
1 tsp salt
200 grams chickpea flower
1 tsp cumin seeds
1/4 tsp baking powder
Oil
Directions
Heat oil in a deep pan on medium to low heat.
Slice onions and place in a large bowl.
Add cumin seeds, salt, chili powder, and baking powder to the bowl and mix well.
Add chickpea flour and add water to the bowl. Mix well until it is about the same texture and thickness as pancake batter.
Once the oil is hot enough for frying, use a spoon to place spoonfuls of the mixture into the oil and fry. Continue to place spoonfuls of mixture in the oil. Make sure you leave enough space between portions.
Fry until golden brown. Remove any excess oil with a paper towel and place in a serving bowl.
Serve with tamarind chutney, ketchup, or any other tangy dip.
Did you know Eagle Eye Produce grows onions? Find out more here!