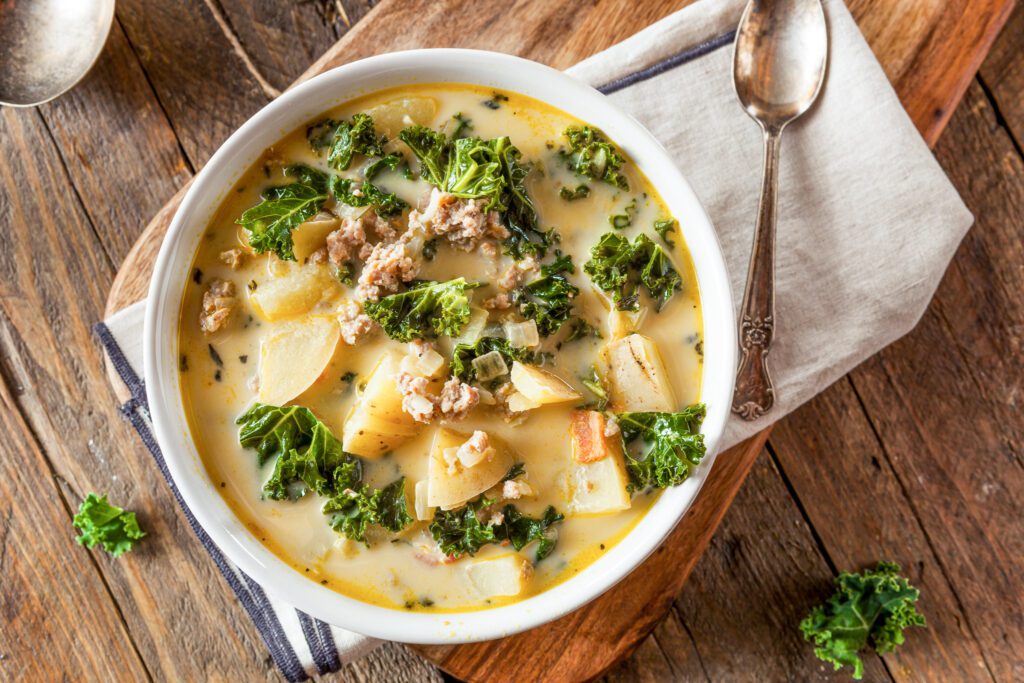 As we head further into winter, thank goodness it's National Soup Month! We're kicking off the month with this delicious creamy Tuscan soup! You might recognize it from a certain Italian restaurant chain…it has that rich & creamy flavor you're looking for in the cold of winter.
Prep Time: 10 minutes
Ingredients
1 lbs ground hot sausage 
2 cloves garlic, minced 
4 cups chicken broth
1 cup water
1 onion, chopped
2 celery stalks, diced
2 garlic cloves, minced
4 russet Idaho® potatoes, cleaned and diced
1 teaspoon thyme
½ teaspoon basil 
1/2 teaspoon rosemary 
1/2 teaspoon oregano
½ teaspoon red pepper flakes, if desired 
Salt and pepper
12 oz evaporated milk 
1 bunch kale, stemmed and chopped
Grated mozarella for garnish
Directions
In a large skillet over medium-high heat, brown the sausage. When just browned, add the cloves garlic to the skillet and cook for 30 seconds. Drain the fat from the skillet and spoon into a large slow cooker. 
Pour the broth and water into the slow cooker. Add the chopped onion, celery and potatoes. Stir in the thyme, basil, rosemary, oregano, and red pepper flakes (if your family likes a little heat). Season with salt and pepper and cook on low for 4 hours. 
Before serving, add the evaporated milk and kale to the slow cooker. Stir to combine and allow the kale to wilt a bit and the milk to heat through. 
Ladle into bowls and serve with grated mozzarella for garnish.
Did you know Eagle Eye Produce grows potatoes? Find more here!