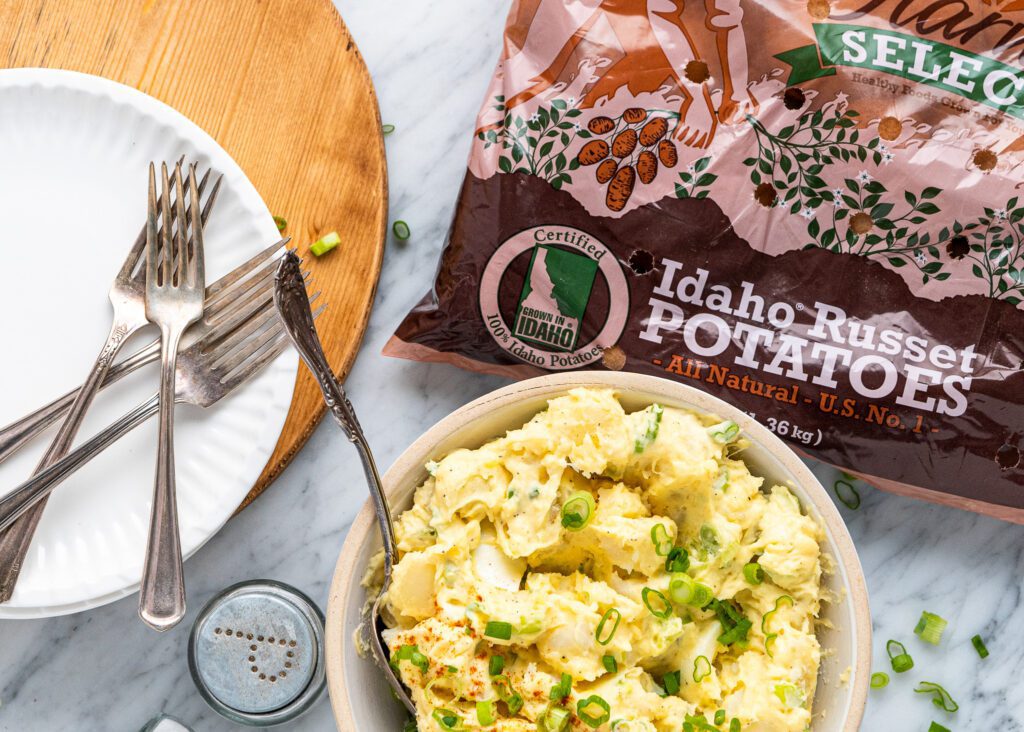 This Classic Potato Salad recipe is a must-have for all potato lovers at every spring & summer get-together! With a delicious creamy texture, slight tang, hint of mustard, and a little crunch, it's the perfect pairing for just about anything you grill up!
Ingredients
1 1/2 pounds of russet potatoes, peeled and cubed into 1-inch pieces
1 tbsp white wine vinegar
3/4 tsp salt
1/4 tsp black pepper
1 cup mayo
2 tsp yellow mustard
1 stalk celery, chopped
2 scallions, green and white parts, thinly sliced
2 hard-boiled eggs, chopped
A couple of pinches of paprika
Directions
Add the cubed potatoes to a medium saucepan and add enough cold water to cover by 2 inches. Bring to a boil, and then cook until the potatoes are fork-tender but not mushy about 8 minutes. Drain.
While the potatoes are still hot, season with vinegar, salt, and black pepper.
Let the potatoes cool to room temperature, and then add them to a large bowl along with the mayo, celery, half of the scallion, and the chopped hard-boiled eggs. Stir gently to combine.
Transfer the potato salad to a serving bowl. Top with the remaining half of the scallions and the paprika.
Refrigerate until chilled, about 2 hours.
Serve & enjoy!
Did you know Eagle Eye Produce grows millions of pounds of russet potatoes each year? Find more here!
Recipe courtesy of An Edible Mosaic