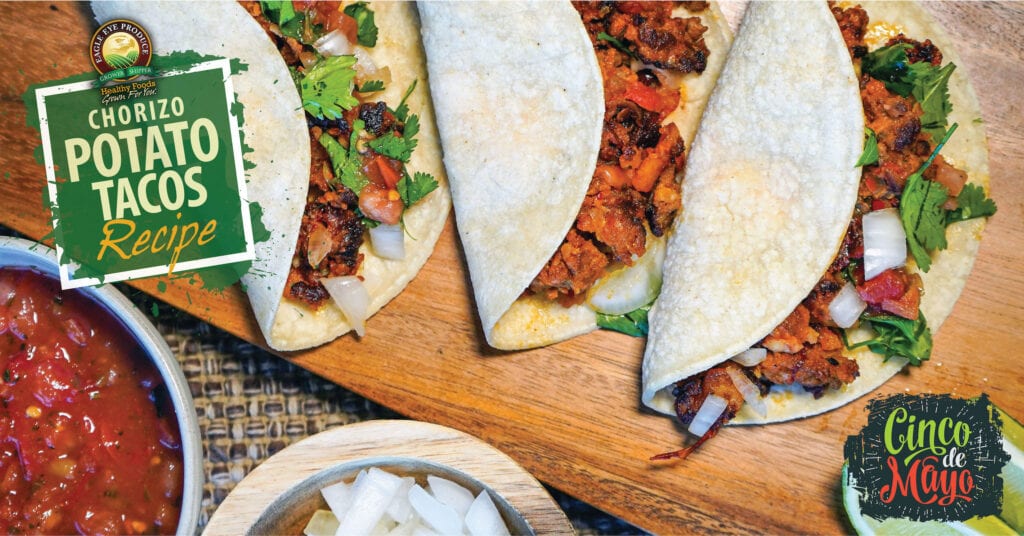 Looking for something to spice up your Cinco de Mayo celebrations? These fresh Chorizo Potato Tacos will do the trick! These little tacos have some BIG crave-able flavor.
Ingredients
2 lbs yellow potatoes (Simply Good Simply Fresh)
1 1/2 lbs ground pork
1 tbsp kosher salt
1 tbsp minced garlic
1 tbsp sweet paprika
2 tbsp chopped chipotles in adobo
1/2 tsp ground coriander
1 tsp dried oregano, crumbled
1 tsp cider vinegar
1/4 cup vegetable oil
12 flour or corn tortillas, warmed
Directions
Put the yellow potatoes into a large saucepan and cover with cold water over high heat to bring to boil. Once boiling let simmer over low heat for 30 minutes or until the potatoes are tender. Once tender, drain water and let cool slightly. Gently peel the potatoes using your hands and coarsely mash them in a saucepan.
Put pork, salt, garlic, paprika, chipotles, coriander, oregano, and vinegar into a large bowl. Gently knead in the potatoes. Make sure you leave some chunks of potato. Do not mash too thoroughly.
Lightly oil 2 large skillets and heat the oil until simmering. Add the chorizo potato mixture to the skillets and press into an even layer. Cook the mixture over medium-high heat (do not mix or stir) until a crust forms on the bottom. This usually takes about 5 minutes or so. Turn the mixture in sections, like a pancake, and cook until browned and crusty on the other side (5 more minutes)
Load up each tortilla with the chorizo-potato mixture, salsa, onion, cilantro, and lime juice. Serve & enjoy!
Did you know Eagle Eye Produce grows potatoes and onions? Find out more here!