Pan-Seared Chicken and Cream Sauce with Steakhouse Fresh Blends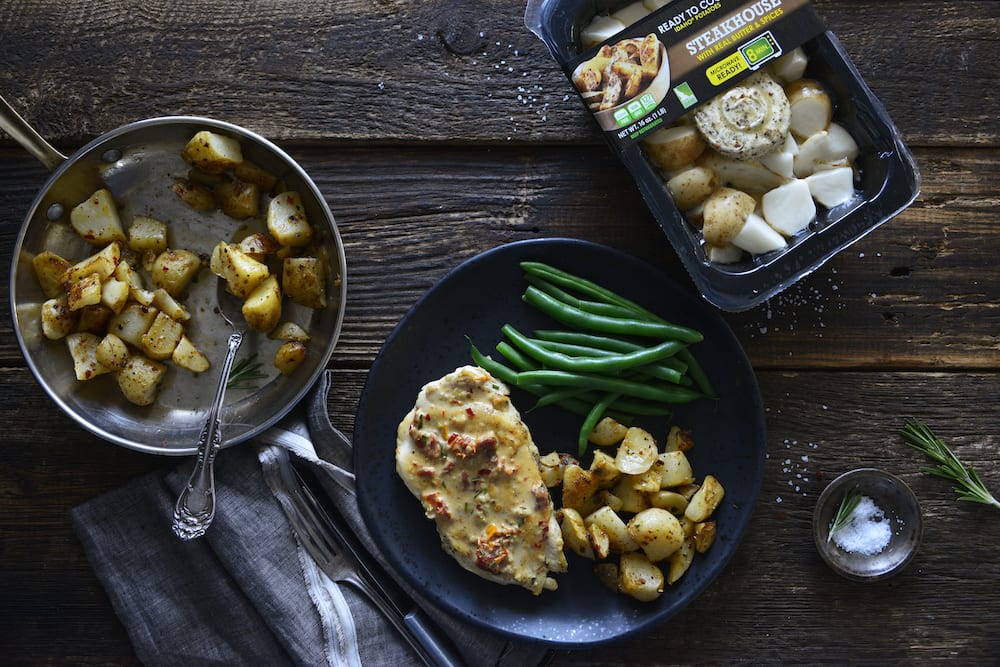 This quick and delicious recipe is too good not to share. Pan-seared chicken in a savory cream sauce served with ready to cook Steakhouse Fresh Blends.
Ingredients
2 Chicken cutlets (1/2 pound)
1/4 tsp. salt
1/4 tsp. black pepper
1 tbsp. extra-virgin olive oil
1 clove garlic, crushed
1 tsp. minced fresh rosemary, or thyme
2 tbsp. chopped sundried tomatoes
1/4 tsp. crushed red pepper flakes
1/4 cup low-sodium chicken stock
1/4 cup heavy whipping cream
2 tbsp. freshly grated parmesan cheese
Fresh rosemary or basil for garnish (optional)
Directions
Lay chicken out on a cutting board and season both sides with salt and black pepper.
Heat the oil in a large cast iron skillet over medium-high heat. Once hot, add the chicken and turn the heat down to medium. Cook until the chicken is browned on the outside and fully cooked inside (about 3-4 minutes on the 1st side and 2-3 minutes on the 2nd side). Transfer the chicken to a plate and drape a piece of foil on top.
Turn the heat down to low. Add the garlic to skillet and cook 10 seconds, stirring constantly. Add the rosemary, sundried tomatoes, crushed red pepper flakes, chicken stock, and heavy whipping cream. Let it come up to a boil, and then cook for 1 minute, stirring constantly.
Remove from the heat and add the chicken cutlets into the creamy sauce.
Top with grated Parmesan cheese and fresh rosemary or basil if desired. Serve & enjoy!
Use our Store Locator to find Fresh Blends near you!
Recipe created by An Edible Mosaic