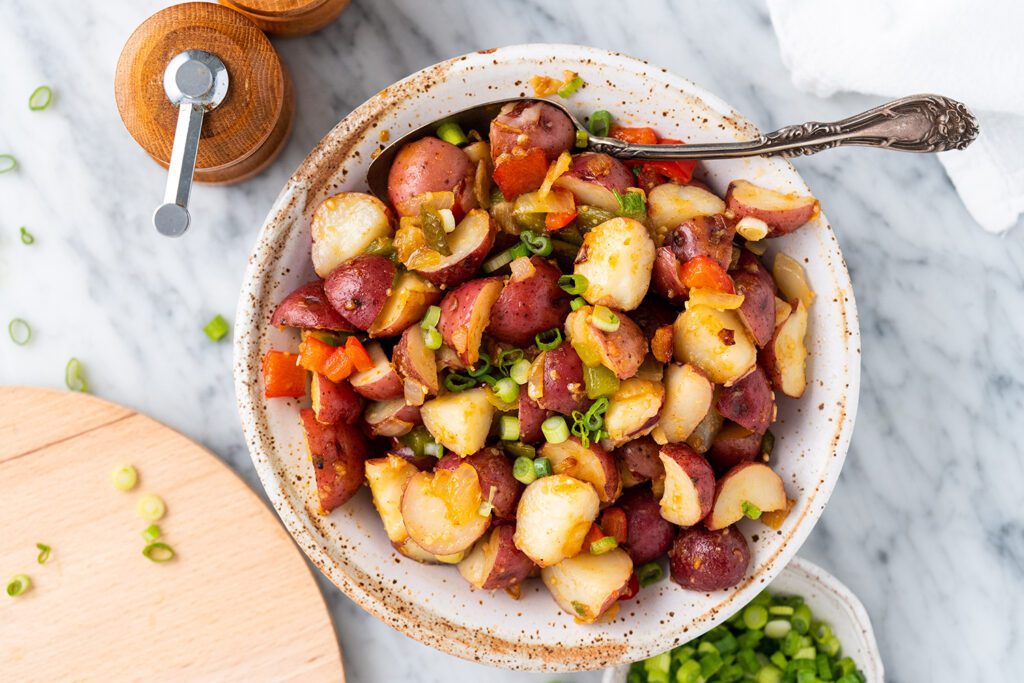 Start the day off right with this savory Breakfast Potato Hash! Starring your favorite Eagle Eye Produce veggies and Simply Good Baby Red Potatoes! Great way to get delicious veggies early in the day, and it satisfies for hours.
Ingredients
1 1/2 pounds Simply Good Baby Red Idaho Potatoes, rinsed and quartered
2 tablespoons olive oil
2 tablespoons unsalted butter
1 medium yellow onion, diced
1 green bell pepper, diced
1 red bell pepper, diced
tablespoon minced garlic
1 1/2 teaspoons seasoned salt
2 scallions, green and white parts, thinly sliced
Directions
Add the chopped potatoes to a medium saucepan and add enough cold water to cover by 2 inches. Bring to a boil, and then cook until the potatoes are fork-tender, about 10 minutes. Drain.
Add the oil and butter to a large skillet over medium heat. Once hot, add the onion, green bell pepper, and red bell pepper, and cook for 3 minutes, stirring occasionally.
Add the cooked and drained potatoes to the skillet with the onion and bell pepper. Turn the heat up to high and cook until the potatoes start to brown, about 5 minutes. Use a metal spatula to toss the potatoes once they've started to brown.
Turn the heat down to medium. Stir in the garlic and seasoned salt, and cook for 1 minute. Stir in half of the scallion.
Transfer the potatoes to a serving bowl, and sprinkle the remaining scallion on top.
Serve & enjoy!
Did you know Eagle Eye Produce grows baby potatoes? Find more here!
Recipe courtesy of An Edible Mosaic