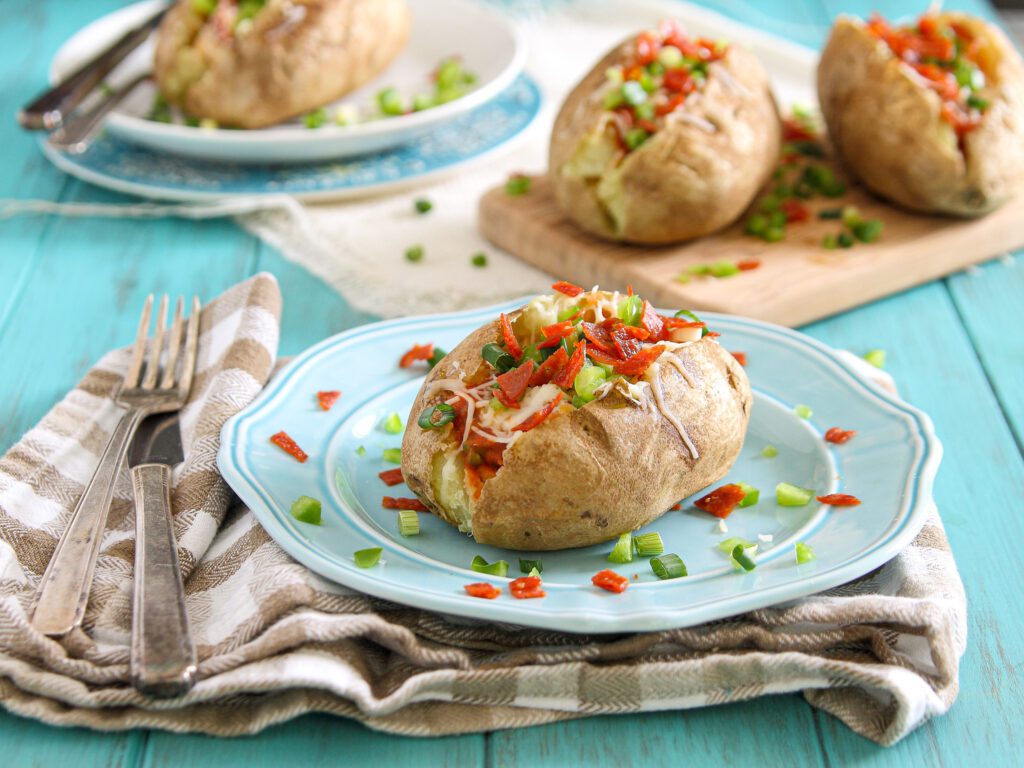 What makes pizza night even better? Adding potatoes! These Baked Pizza Potatoes are a quick, healthy, and delicious appetizer or dinner. Pizza toppings on a perfectly crisp and fluffy baked potato. Comfort food at its finest.
Ingredients
4 Russet potatoes
Turkey pepperoni
Pasta sauce/pizza sauce
4 teaspoons healthy buttery spread
Italian blend shredded cheese
Minced green pepper
Green onion
Directions
Cut a wedge out of each potato about 1/8-inch wide and 1-inch deep and place in a microwave-safe dish. Microwave on HIGH, uncovered, for 10 to12 minutes depending on strength of microwave.
Use oven mitts to remove dish from microwave. Carefully make a slit in the top of each potato and fluff with a fork. Mix 1 teaspoon buttery spread and season with salt.
Place slices turkey pepperoni on a plate and microwave on HIGH for 45 to 60 seconds to crisp
Top each seasoned potato with 1/4 cup warm pasta sauce, 1/4 cup Italian blend shreddedcheese, 1 tablespoon minced green pepper and 1 tablespoon sliced green onion
Microwave on HIGH for 2 minutes to melt cheese, then, top with coarsely crumbled pepperoni slices.
Did you know Eagle Eye Produce grows potatoes? Find more here!
Recipe courtesy of Potatoes USA