Bacon-Wrapped Potatoes with Queso Blanco Dip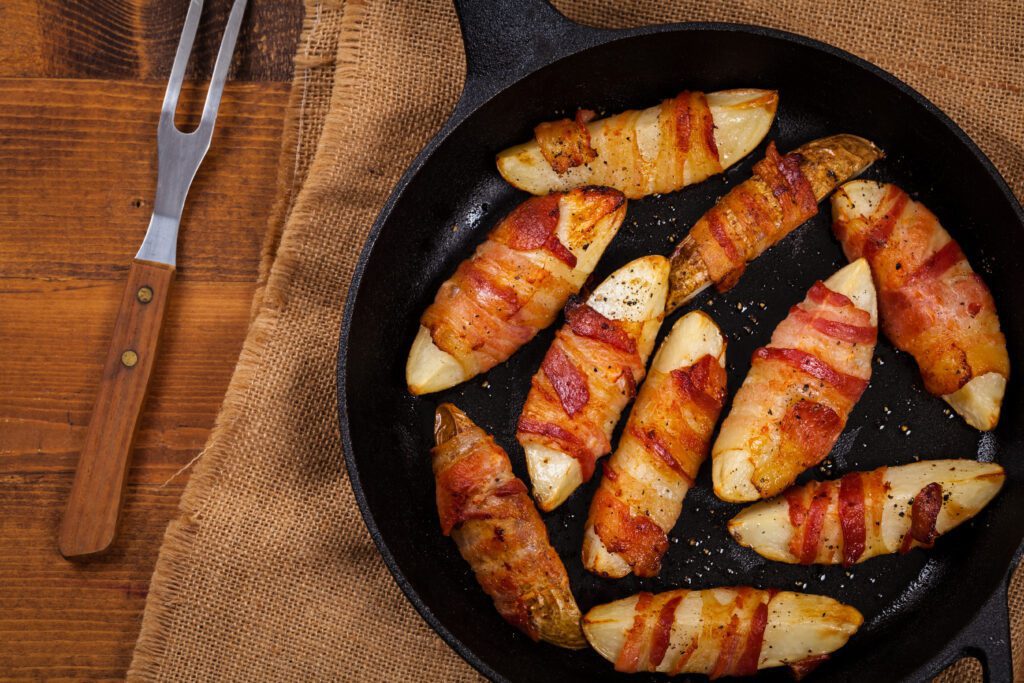 Football finger food is a must have for the Sunday game. These bacon wrapped potatoes are perfect for dipping which is why we included a queso blanco recipe for you to try out!
Yields: 8 servings
Prep Time: 30 minutes
Cook Time: 40-45 minutes
Ingredients:
2 medium-sized red potatoes, cut into 8 wedges each
1/2 teaspoon salt
16 center-cut bacon slices
1/2 teaspoon pepper
1/2 cup diced red onion
1 tablespoon canola oil
1 garlic clove, minced
12 oz queso blanco pasteurized prepared cheese product, cubed
1 (8 oz) block pepper jack cheese, shredded
1/2 cup half-and-half
1 (4 oz) can of chopped green chiles
1 plum tomato, seeded and diced
1/4 cup chopped fresh cilantro
Directions:
Potato Wedges:
Lightly grease a wire rack and place it on an aluminum-lined cooking sheet.
Preheat oven to 425 degrees Fahrenheit.
Season the potato wedges with salt and wrap each with a slice of bacon.
Arrange the wedges on the prepared wire rack and bake until the bacon is crisp (about 40-45 minutes).
Queso Blanco:
Note: Prepare Queso Blanco dip while wedges are cooking to save time
Saute onions in a nonstick skillet until the onions are tender (about 5 minutes under medium heat)
Add garlic to the onions and saute for an additional minute. Remove from heat.
Combine queso blanco, pepper jack cheese, half-and-half, and green chiles in a microwave-safe bowl.
Microwave on high for 2 1/2 minutes.
Stir the mixture and microwave on high for an additional 2 1/2 minutes.
Stir.
Place the bowl in the microwave, stirring at 1-minute intervals, until the cheese mixture is smooth.
Stir in diced tomatoes and cilantro.