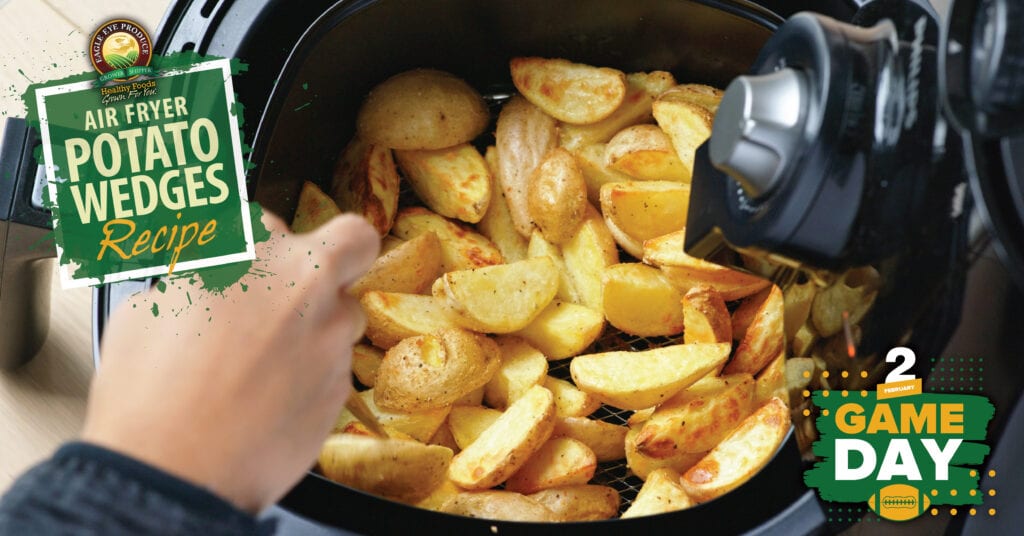 These Air Fryer Potato Wedges are perfectly seasoned and just as crispy, and more healthy than traditional fried potato wedges. They taste great, are super convenient, and only take about 30 minutes to prepare!
Ingredients
2 Medium Russet Potatoes
1 1/2 Tablespoons Olive Oil
1/2 Teaspoon Paprika
1/2 Teaspoon Parsley Flakes
1/2 Teaspoon Chili Powder
1/2 Teaspoon Salt
1/8 Teaspoon Pepper
Directions
Preheat your air fryer to 400 degrees F.
Cut your medium potatoes into wedges. Place the wedges in a large bowl. Add olive oil, paprika, parsley, chili powder, salt & pepper and mix well.
Place your seasoned wedges into the basket of the air fryer and cook for 10 minutes at 400 degrees F.
After the 10 minutes, flip the wedges with tongs or chop sticks, and cook them for an additional 5 minutes. (You may have to repeat steps 3,4 if you can not fit all of your wedges into your air fryer basket)
Did you know Eagle Eye Produce grows, and ships over 500 million pounds of potatoes each year? Find out more here!